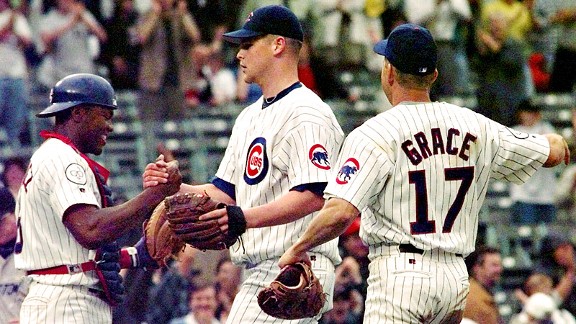 AP Photo/Fred JewellOn May 5, 1998, Kerry Wood, then 20, struck out 20 Houston Astros in nine innings.
Scott Van Pelt and Ryen Russillo discuss Cubs pitcher Kerry Wood, who is about to retire. They also talk about some of the best pitching performances they have ever seen. Listen

Nationals 3B Ryan Zimmerman previews the upcoming series with the Orioles. He says it's more of a friendly rivalry and much more interesting now that they are both good. Listen

Los Angeles Dodgers pitcher Clayton Kershaw talks about his team's start to the season with the new ownership group and the injury to Matt Kemp. Listen

ESPN NBA analyst Jon Barry says something is not right with Heat guard Dwyane Wade and there isn't much the Heat can do. Wade and LeBron James need to put up 60 or 70 points a game to beat the Pacers. Listen

ESPN NBA analyst Kurt Rambis talks about the effect losing Chris Bosh has on the Heat in the series against the Pacers. Plus, Rambis discusses the Thunder-Lakers series. Listen

Denver Broncos QB Brock Osweiler talks about the incredible opportunity he has to learn his position from Peyton Manning and John Elway. Listen

PODCASTS
Ryen Russillo and Danny Kanell bring their own flavor to the game, mixing some pop culture with the latest happenings.