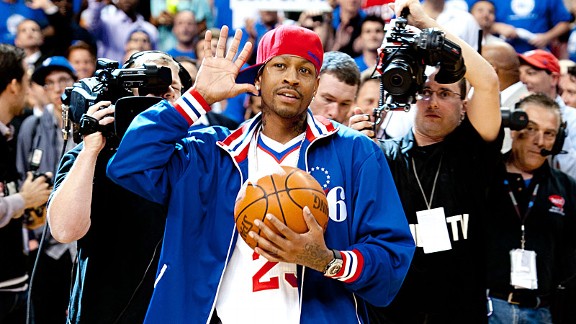 Jeff Fusco/Getty Images Allen Iverson felt the love from the Philly crowd before Game 6 of 76ers-Celtics.
PTI's Michael Wilbon talks about the amazing connection between Allen Iverson and the city of Philadelphia on display again before Game 6 of the 76ers-Celtics series. Wilbon also comments on the possibility of Shaquille O'Neal being a GM and previews Game 6 of Heat-Pacers. Listen

Former Indiana Pacers forward Austin Croshere talks about how the Pacers will respond in Game 6 after being called out by Pacers president Larry Bird. Listen

ESPN.com Heat Index writer Brian Windhorst previews Game 6 of Heat-Pacers. Windhorst says it will be interesting to see what the aggression level is in the game.
Listen

ESPN 1070 The Fan in Indianapolis' Dan Dakich previews Game 6 of the Heat-Pacers series. Dakich says he'll be eating cotton candy. Listen

Pulse of the Nation - Scott Van Pelt and Ryen Russillo deliver an accented summer movie preview. Listen

One Big Thing - Scott Van Pelt praises the performance of Phillies pitcher Cole Hamels when all eyes were on him pitching against the Nationals. Listen

PODCASTS
Ryen Russillo and Danny Kanell bring their own flavor to the game, mixing some pop culture with the latest happenings.