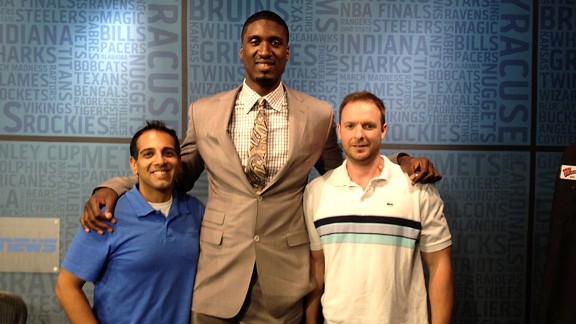 ESPN Radio Pacers center Roy Hibbert joins Adnan Virk and Ryen Russillo.
With Ryen Russillo and Adnan Virk
Pacers center Roy Hibbert breaks down the NBA Finals and talks about his future as a restricted free agent. Listen

ESPN NBA analyst Chris Mullin says the Heat played better defense in Game 2. Mullin still likes the Thunder to win in 7 games. Listen

ESPN NBA analyst Jon Barry says Dwyane Wade was better in Game 2 and it took pressure off of LeBron James. Shane Battier has also been a key for Miami. Listen

Our host Scott Van Pelt breaks down what he's seen at the U.S. Open so far. Van Pelt says it's not unusual to see some very unfamiliar names on top of the leaderboard early. Listen

ESPN MLB analyst Barry Larkin talks about how driven Reds star Joey Votto is. Larkin says Votto spent the offseason learning to speak Spanish so he could better communicate. Listen

PODCASTS
Ryen Russillo and Danny Kanell bring their own flavor to the game, mixing some pop culture with the latest happenings.