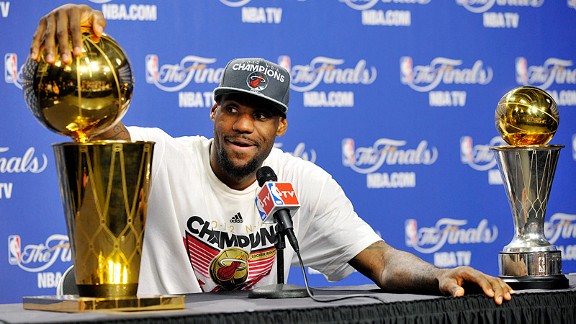 David Dow/NBAE/Getty ImagesMiami Heat forward LeBron James earned his first NBA title.
Miami Heat forward Shane Battier says this season was like a movie. He went from career lows in the regular season across every category to a great playoff run culminating in seeing his reflection in the championship trophy. Listen

Miami Heat forward Udonis Haslem talks about what it means to win his second title with the Heat. Haslem says it's time for people to leave LeBron James alone. Listen

ESPN NBA analyst Jon Barry says LeBron James put new things into his game this season that put him over the top, but most of the changes he made were mental. He played an almost flawless postseason. Listen

ESPN NBA reporter Doris Burke talks about the great stories of the NBA Finals, including Mike Miller stepping up to score 23 points. Listen

ESPN NBA analyst Kurt Rambis talks about winning a title early in one's career and how good the Thunder were this year. Listen

ESPN Deportes anchor and "Dos Lobos" star Kenneth Garay talks about the Heat winning the title. He says it's one of the best days of his life and this weekend will be "Miami Heat party time." Listen

ESPN Radio's Dan "The Duke" Davis comes back to share some dope rhymes. Part 1

Part 2

Part 3

One Big Thing - Scott Van Pelt and Ryen Russillo reflect on LeBron James' first NBA title. Listen

7 Seconds - Scott Van Pelt and Ryen Russillo deliver another classic edition of "7 Seconds." If you were Eddy Curry, would you wear your championship ring out? Listen

PODCASTS
Ryen Russillo and Danny Kanell bring their own flavor to the game, mixing some pop culture with the latest happenings.