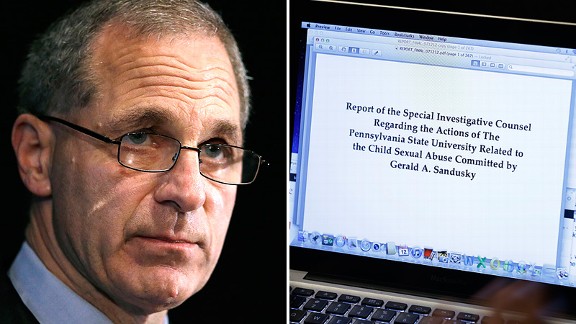 AP PhotoOur guests offer perspective on Louis Freeh's findings condemning Penn State.
StateCollege.com's/Penn State student Ben Jones reacts to the Freeh Report, says Joe Paterno would probably go to jail if he were alive, and comments on the Paterno family and public perception. Listen

Yahoo! Sports' Dan Wetzel wasn't totally surprised by the Freeh Report. He argues that Joe Paterno had as much power as anyone else to pick up the phone and contact authorities about Jerry Sandusky. Listen

Scott Van Pelt's "One Big Thing" focuses on Joe Paterno and the Freeh Report's findings on Penn State's involvement in the Jerry Sandusky case. Listen

Atlanta Falcons' tight end Tony Gonzalez is 95 percent certain this will be his last year in the NFL. He says it was probably a bad idea to give Roger Goodell absolute power. Plus, Dream Team talk. Listen

SVP & RUSSILLO'S FAVORITE DROPS
PODCASTS
A daily best of SVP & Russillo on ESPN Radio.

ESPN's NBA Lockdown with Bruce Bowen covers all of the latest news, rumors and opinion in the NBA alongside ESPN's team of experts.