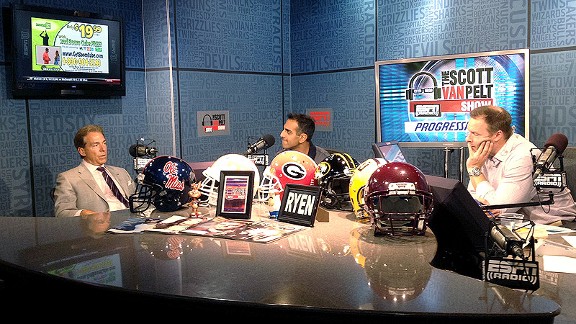 ESPN RadioNick Saban joins Adnan Virk and Ryen Russillo in studio.
Hosted by Ryen Russillo and Adnan Virk
Alabama coach Nick Saban likes his team's attitude, chemistry and ability to look forward. He talks about the passion of SEC fans, his relationship with players and the Penn State situation. Listen

Florida coach Will Muschamp talks about the pressure leading the Gators, losing some key players, his QB situation, recruiting, a lack of depth at the line, new teams in the conference, and Penn State's situation. Listen

South Carolina coach Steve Spurrier reflects on Adam Scott's fall at the British Open, handicaps his team, discusses Penn State and talks about having fun on the job. Listen

ESPN MLB Insider Tim Kurkjian says Ichiro to the Yankees came out of nowhere, but it will rejuvenate the former Mariners star. He also discusses other possible MLB trade deadline moves, like Ryan Dempster to the Braves. Listen

Chicago Bears and former Penn State kicker Robbie Gould talks about re-signing Matt Forte, adding depth to Chicago's offense, says Jay Cutler is a great teammate, and reacts to the sanctions at his former institution. Listen

PODCASTS
Ryen Russillo and Danny Kanell bring their own flavor to the game, mixing some pop culture with the latest happenings.