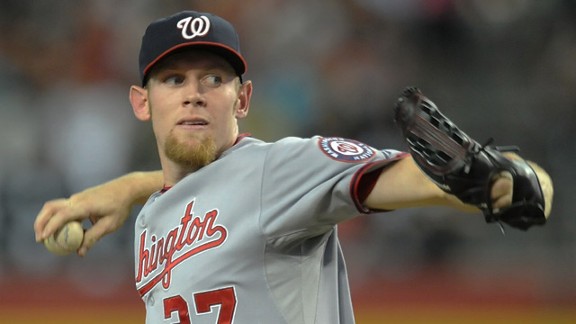 Norm Hall/Getty ImagesRenowned surgeon Dr. James Andrews agrees with the decision to shut down Stephen Strasburg.
With Ryen Russillo and Rece Davis
Dr. James Andrews talks about the innings limit on Stephen Strasburg and says in the long run it's appropriate to shut him down. Listen

A problem with the polls? - Ryen Russillo and Rece Davis talk about the first release of the college football polls. Davis feels that at times the polls are mishandled by the voters. Listen

Rank 'em! - Submit your preseason top 25!
ESPN college football analyst David Pollack gives his pick for the BCS National Championship Game and what he expects from the other top teams around college football. Listen

Melky's 'web gem' - Ryen Russillo and Rece Davis discuss the fake website that was created in an attempt to keep Melky Cabrera from getting suspended and how misguided it is to try to pull the wool over MLB's eyes. Listen

Best listener excuses
ESPN MLB analyst Rick Sutcliffe talks about what should happen to Melky Cabrera, the evolution of the steroid issue in baseball and Hanley Ramirez's success so far in Los Angeles. Listen

NFL Network's Warren Sapp talks about his new book, his favorite coaches and how players' careers should be evaluated. Listen

Monday Night Football's Mike Tirico talks about the pressure on the Eagles this season, the outlook for the Giants and the odds Russell Wilson wins the starting job in Seattle. Listen

ESPN NFL Insider John Clayton talks about Ryan Tannehill being named the starter in Miami, Jake Locker being named the starter in Tennessee and other NFL news and notes. Listen

Historic day at Augusta - Ryen Russillo and Rece Davis talk about Augusta National Golf Club admitting two women as members and discuss the social and historical significance of the decision. Listen

SVP & RUSSILLO'S FAVORITE DROPS
PODCASTS
A daily best of SVP & Russillo on ESPN Radio.

ESPN's NBA Lockdown with Bruce Bowen covers all of the latest news, rumors and opinion in the NBA alongside ESPN's team of experts.