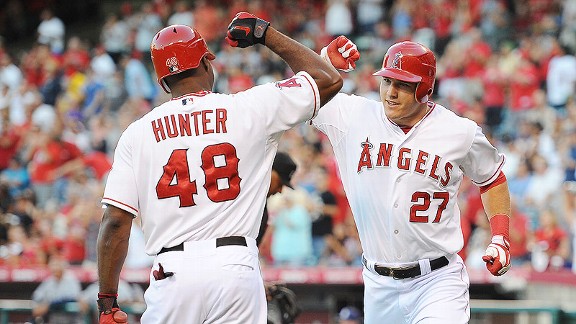 Kelvin Kuo/US PresswireWill Mike Trout, Torii Hunter and the Angels be able to make the playoffs this season?
With Scott Van Pelt and Ryen Russillo
Contender or pretender? - Scott Van Pelt and Ryen Russillo talk about the cluster of teams in contention for baseball's wild card spots and discuss which ones will hang on to make the postseason. Listen

ESPN MLB Insider Tim Kurkjian talks about his expectations for Josh Beckett and Adrian Gonzalez in LA, whether or not the Orioles, A's and Pirates can make the playoffs and more. Listen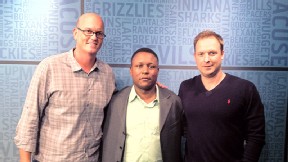 Courtesy: ESPN Radio/Ray NecciBarry Sanders joined Scott and Ryen in studio.
Pro Football Hall of Famer Barry Sanders talks about his incredible career, why he chose to walk away from the game when he did and his outlook for the Lions this season. Listen

NFLRA president Scott Green and NFLRA lead negotiator Mike Arnold talk about the state of negotiations between the NFLRA and the NFL, the main sticking points and the odds a deal is reached before the start of the regular season. Listen

College football's offensive approaches - Scott Van Pelt and Ryen Russillo discuss how schools like Oregon and Alabama are able to win so many games even though neither school produces many highly touted NFL quarterback prospects. Listen

7 Seconds - Scott Van Pelt and Ryen Russillo ask each other rapid fire questions pertaining to sports and life. Listen

One Big Thing - Scott Van Pelt and Ryen Russillo talk about the Redskins' decision to cut Graham Gano in favor of Billy Cundiff. Van Pelt says that the lack of a consistent kicker on a team is indicative of the team's overall success or failure. Listen

PODCASTS
Ryen Russillo and Danny Kanell bring their own flavor to the game, mixing some pop culture with the latest happenings.