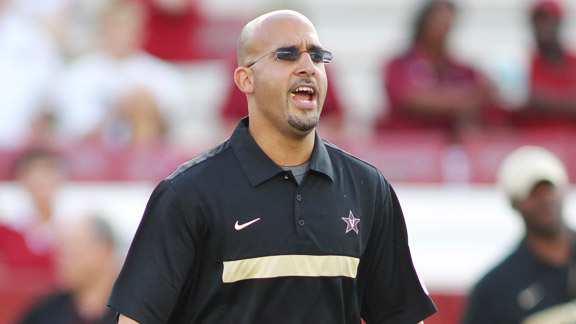 Jeremy Brevard/US PresswireVanderbilt coach James Franklin is optimistic about the Commodores upcoming season.
With Scott Van Pelt and Ryen Russillo
Vanderbilt coach James Franklin talks about the progress his program has made in the past year, the buzz surrounding the Commodores and the team's opener against South Carolina on Thursday. Listen

Pro Football Hall of Famer Warren Moon talks about the evolution of offensive football, the trend of young starting quarterbacks in the NFL, what he sees in Andrew Luck and Robert Griffin III, his prediction for the Washington Huskies and more. Listen

Welcome back? - Scott Van Pelt and Ryen Russillo talk about Mike Wallace finally making his return to Steelers' practice and discuss if it was a mistake for him to hold out in the first place. Listen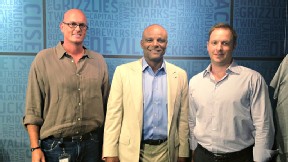 Ray Necci /ESPN RadioWarren Moon joined Scott and Ryen in studio.
Sports Illustrated's Peter King talks about how long he expects the lockout of the referees to last, teams he thinks will exceed expectations, Seattle's decision to name Russell Wilson the starter and more. Listen

Conference previews - Scott Van Pelt and Ryen Russillo go through some of the biggest questions regarding the Pac-12

, Big 12

and Big East

as the season draws near.
FOX college football analyst Joey Harrington talks about his expectations for the first weekend of the season, who he expects to finish behind USC and Oregon in the Pac-12, if this is the year the SEC's run of dominance ends and more. Listen

ESPN MLB Insider Buster Olney says the blockbuster trade between the Dodgers and Red Sox was a win for both organizations. Olney also weighs in on the Orioles' success, collisions at home plate and more. Listen

One Big Thing - Scott Van Pelt says it's inexcusable for attendance at Orioles games to be so low this season. Listen

PODCASTS
Ryen Russillo and Danny Kanell bring their own flavor to the game, mixing some pop culture with the latest happenings.