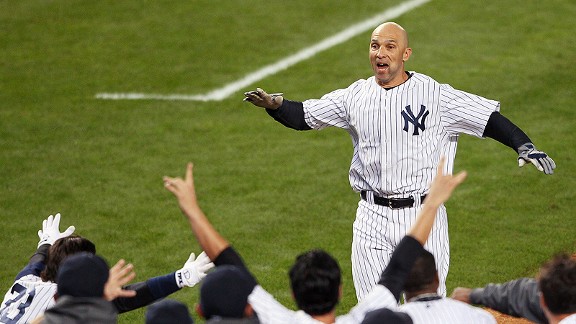 Alex Trautwig/Getty ImagesMuch to SVP's dismay, Raul Ibanez's walk-off home run was one of many exciting playoff moments.
Thursday, Scott Van Pelt re-lived an exciting night of playoff baseball, looked forward to another packed slate tonight and kept tabs on NFL and college football - all while remembering the life of the great Beano Cook. Check out the best highlights of the show below!
ESPN New York 98.7 FM's Michael Kay Talks about the Yankees' thrilling victory over the Orioles on Wednesday night, how Alex Rodriguez dealt with being pinch-hit for, if the Orioles can bounce back on Thursday night and more. Listen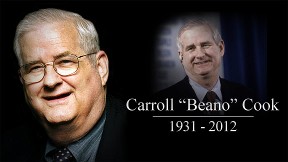 ESPN.com IllustrationScott Van Pelt remembers the late Beano Cook.
ESPN NFL analyst Brian Dawkins talks about how tough it is for players to play on Thursday night, gives his thoughts on which teams are the best in each conference and has advice for Mike Vick on how to stop fumbling. Listen

One Big Thing - Scott Van Pelt and ESPN's Chris Fowler take a moment to remember the life of longtime ESPN commentator Beano Cook after his passing at the age of 81. Listen

ESPN's Michael Wilbon weighs in on life in the beltway this time of year, the dramatic nature of this year's MLB postseason, Robert Griffin III's style of play and the Bears' 4-1 start. Listen

ESPN college football analyst David Pollack discusses the importance of this weekend's matchup between South Carolina and LSU, puts Kansas State on upset alert, says Notre Dame is the real deal and more. Listen

ESPN the Magazine's Chad Millman chats about when sports and politics collide, the latest issue of the magazine and the latest gambling trends going into the weekend. Listen

ESPN NASCAR analyst Rusty Wallace discusses the impact of Dale Earnhardt, Jr.'s concussion, what it means for the remainder of the chase, who he likes in this weekend's race and more. Listen

PODCASTS
Ryen Russillo and Danny Kanell bring their own flavor to the game, mixing some pop culture with the latest happenings.