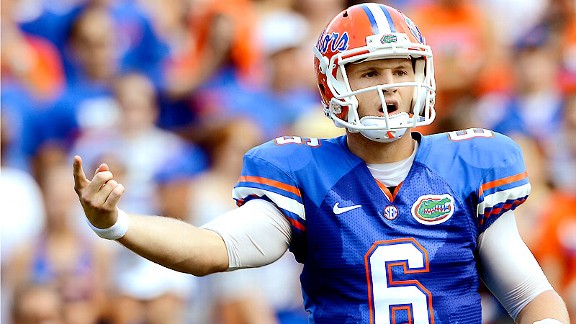 AP Photo/Phil SandlinJeff Driskel and Florida are #2 in the BCS, but are the Gators truly the nation's 2nd best team?
Monday, Scott Van Pelt and Ryen Russillo reviewed an action-packed Sunday in the NFL, wondered who the 2nd best team is in college football and prepared for game 7 in the NLCS. Check out the best highlights of the show below!
Depressing wins and encouraging losses - Scott Van Pelt and Ryen Russillo discuss a close win for the heavily favored Patriots and an encouraging performance for Robert Griffin III and the Redskins in a losing effort against the Giants. Listen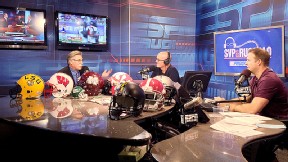 Ray Necci/ESPN RadioGame 7 legend Jack Morris joins "SVP & Russillo."
3-time World Series champion Jack Morris reminisces about his remarkable Game 7 performance in the 1991 World Series, helps preview Monday's Game 7 in the NLCS, comments on the incredible talent of Justin Verlander and the Tigers and discusses his chances of making the Hall of Fame. Listen

ESPN's Mike Tirico previews Monday night's matchup between the Lions and Bears, gives his thoughts on who is the 2nd best team in the AFC and marvels at Aaron Rodgers' performances the last couple of weeks. Listen

ESPN college football analyst Jesse Palmer weighs in on who he believes is the nation's 2nd best team, talks about some concerns he has regarding Notre Dame's offense and says that Alabama's AJ McCarron is a legitimate Heisman Trophy candidate. Listen

ESPN NFL analyst Tim Hasselbeck talks about Cam Newton's demeanor in the face of adversity, the remarkable performance of Robert Griffin III, the Giants' ability to continue to win late, if the Patriots should be concerned about their performance and more. Listen

One Big Thing - Scott Van Pelt and Ryen Russillo talk about the stellar start Robert Griffin III has had this year and compare it to the start Cam Newton had in 2011. In light of Newton's sophomore slump, SVP and Russillo wonder if Griffin is destined for a prolific career or if his early success is being blown out of proportion. Listen

PODCASTS
Ryen Russillo and Danny Kanell bring their own flavor to the game, mixing some pop culture with the latest happenings.