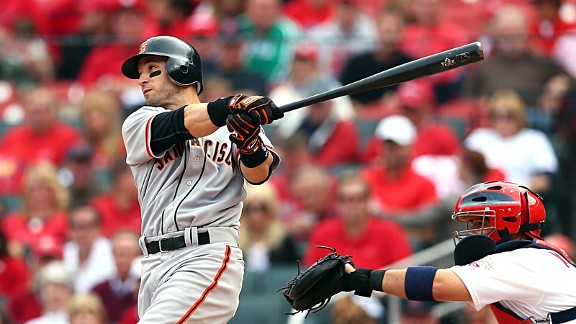 Elsa/Getty ImagesGiants 2nd baseman Marco Scutaro seemingly came out of nowhere to win NLCS MVP honors.
Tuesday, Scott Van Pelt and Ryen Russillo looked back at Game 7 of the NLCS, looked ahead to the World Series, dissected the Bears' win over the Lions and unveiled their latest rankings. Check out the best highlights of the show below!
Giant comeback - Scott Van Pelt and Ryen Russillo marvel at the Giants' ability to win yet another postseason elimination game and explore the decision to plunk Matt Holliday when they did. Listen

ESPN MLB Insider Tim Kurkjian discusses San Francisco's comeback in the NLCS, Marco Scutaro seemingly coming out of nowhere to win NLCS MVP, the strategy each team will take in the World Series and the impact John Farrell will have with the Red Sox. Listen

Kansas State quarterback Collin Klein talks about his team's terrific start, the pressures of being ranked in the top 5, the Wildcats' offensive approach, what Bill Snyder brings to the team and much more. Listen

Dirty play? - Scott Van Pelt and Ryen Russillo talk about whether or not Ndamukong Suh's hard tackle on Jay Cutler was a dirty play and wonder what has gone wrong with the Lions' offense this season. Listen

ESPN NFL analyst Trent Dilfer discusses the incredible talent displayed by rookie quarterbacks in the NFL this season, the Lions' struggles against the Bears, if Cam Newton can bounce back this season and more. Listen

ESPN NFL analyst Jason Taylor weighs in on Ndamukong Suh's hit on Jay Cutler, the tenacity of the Bears defense, the skill of Robert Griffin III and if there should be any concern about the Patriots. Listen

Scott Van Pelt and Ryen Russillo rank the best and worst teams in the NFL in their weekly Top 5/Bottom 3 rankings. Listen

Luck vs. RG3 - Scott Van Pelt and Ryen Russillo examine the discrepancy in the amount of coverage received by Andrew Luck and Robert Griffin III despite the fact that Luck was the top pick and the two quarterbacks have comparable statistics this season. Listen

PODCASTS
Ryen Russillo and Danny Kanell bring their own flavor to the game, mixing some pop culture with the latest happenings.