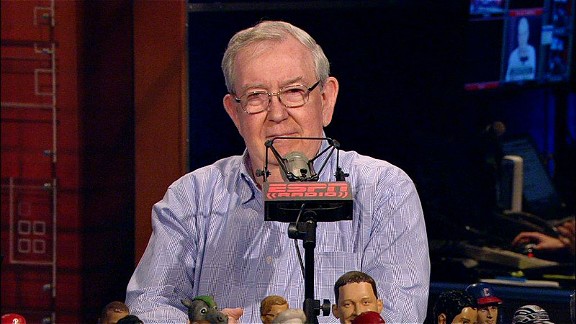 ESPN2ESPN Radio legend Dan "The Duke" Davis blesses the mic with some more classic hip-hop tracks.
ESPN Radio legend Dan "The Duke" Davis steps behind the mic to spit some hot classic rhymes! Check them out.
"99 Problems" featuring Kenneth Garay by Jay-Z

"Bring the Noise" by Public Enemy

"Jump Around" by House of Pain

"Hot Sauce (In My Bag)" by Delonte West

"Swimming Pools" featuring Kenneth Garay by Kendrick Lamar

Check out the complete archive of Duke's raps on the right side of the page!

The Sporting Life
4:00 a.m. - 5:00 a.m. ET
Listen


Updates |

Deportes

SVP & RUSSILLO TV
Watch the SVP & Russillo webcam when they aren't on ESPNEWS!
CONNECT WITH THE SHOW
Live Chat
Chat with Scott Van Pelt, Ryen Russillo and the entire show staff weekdays from 3-4 p.m. ET.
99 DAYS OF COLLEGE FOOTBALL
SVP & RUSSILLO'S FAVORITE DROPS
INSIDER - SIGN UP TODAY!
Listen to SVP & Russillo -- commercial free, either streaming or as a podcast!
SVP & Russillo
Fri. 3/14 (3 Segments)
PODCASTS
A daily best of SVP & Russillo on ESPN Radio.

ESPN's NBA Lockdown with Bruce Bowen covers all of the latest news, rumors and opinion in the NBA alongside ESPN's team of experts.
BEST OF SVP AND RUSSILLO ON ESPN RADIO: DUKE RAPS NOVEMBER 26