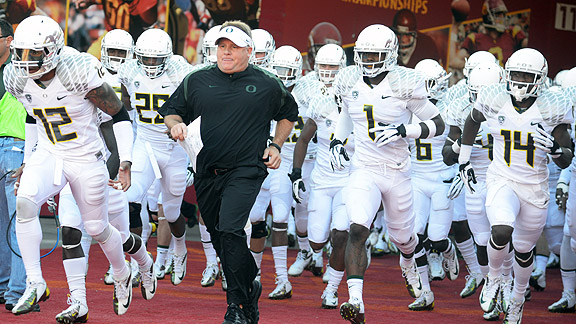 Kirby Lee/Image of Sport/US PresswireScott Van Pelt talks about Chip Kelly's decision to bolt from Oregon to the Philadelphia Eagles.
Wednesday, Scott Van Pelt discusses Chip Kelly going to the Eagles, more fallout from Lance Armstrong's admission and more. Listen to the best highlights of the show below!
Kelly green - Scott Van Pelt talks about the Eagles' hiring of Chip Kelly, speculates why Kelly chose to leave Oregon now and says that often times the easiest decision is to stay where you are; it takes guts to venture into the unknown. Listen

Eagles center Jason Kelce says he's surprised Philadelphia landed Chip Kelly. Kelce also expresses excitement to be a part of Kelly's up-tempo system, says it will be important for Kelly to adjust to the mentality of NFL players and discusses the reaction of the teammates he's been able to speak with. Listen

ESPN NFL analyst Mark Schlereth thinks Chip Kelly's system is coming to the NFL at the perfect time but will have to be adjusted for NFL players. Schlreth also discusses the hiring of Marc Trestman in Chicago and previews this weekend's championship games. Listen

Chicago's ESPN 1000's Tom Waddle says Bears fans are optimistic about the hiring of Marc Trestman, believes Jay Cutler will be receptive to Trestman's approach, talks about why the team's management decided Trestman was right for the job and more. Listen

ESPN college football analyst Kirk Herbstreit talks about his recent discussion with Chip Kelly, noting that it was an extremely difficult decision for Kelly to leave Oregon. Herbstreit also explains why he believes Kelly will be a successful NFL coach and says it will be extremely difficult for Oregon to maintain its success without Kelly. Listen

ESPN.com Pac-12 blogger Ted Miller weighs in on Chip Kelly going to the NFL, lends some insight into who will replace Kelly at Oregon and talks about the reported confrontation which took place in the USC locker room after the Sun Bowl. Listen

PODCASTS
Ryen Russillo and Danny Kanell bring their own flavor to the game, mixing some pop culture with the latest happenings.