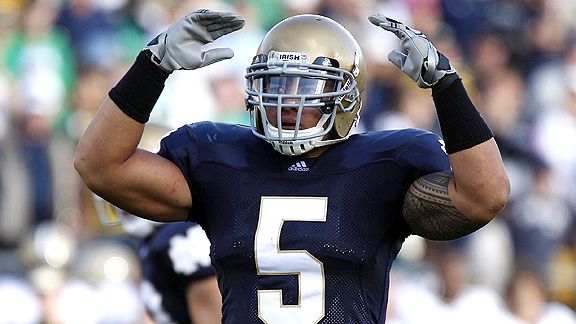 Brian Spurlock-US PRESSWIRESVP & Russillo react to the latest twist in the bizarre story surrounding Notre Dame's Manti Te'o.
Friday, Scott Van Pelt and Ryen Russillo discuss the latest in the Manti Te'o hoax situation, preview the conference championships in the NFL and more. Listen to the best highlights of the show below!
Te'o revelation? - Scott Van Pelt and Ryen Russillo react to Shelley Smith's story that Ronaiah Tuiasosopo has reportedly admitted to duping Manti Te'o and say that it's still very difficult to believe anybody who is involved with this story. Listen

Eagles general manager Howie Roseman details the process of the team's hiring of Chip Kelly, talks about why Kelly is a good fit for the Eagles, discusses Michael Vick's future with the team and comments on what Manti Te'o's situation will do to his draft stock. Listen

ESPN NFL analyst Tedy Bruschi talks about how the Patriots are approaching their rematch with the Ravens, the emotions of Tom Brady heading into big games, why the 49ers match up so well against the Falcons and what Manti Te'o will encounter when he gets into the NFL. Listen

Giants WR Victor Cruz discusses his experiences playing against both the 49ers and Falcons this season, the intricacies of each team's defensive schemes, how tough it is to not be in the playoffs this season and his expectations for a new contract. Listen

Broncos WR Eric Decker says he's starting to come to terms with last week's loss but is still having a difficult time getting over it. Decker also comments on the thrill of playing with Peyton Manning, the team's plans moving forward and who he expects to win in Sunday's AFC championship. Listen

PODCASTS
Ryen Russillo and Danny Kanell bring their own flavor to the game, mixing some pop culture with the latest happenings.