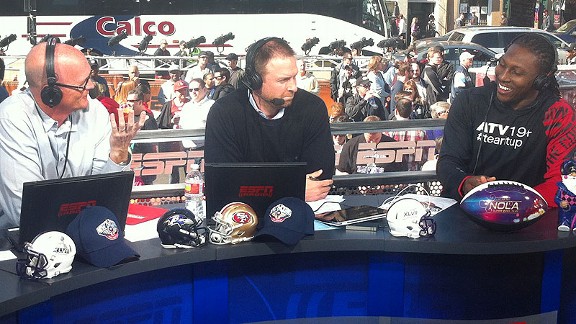 Dustin Stricker/ESPN Radio Falcons WR Roddy White tells SVP & Russillo how the Ravens receivers can beat the 49ers defense.
Friday, Scott Van Pelt and Ryen Russillo visit with some of the sports world's biggest stars. Listen to the best highlights of the show below!
Falcons wide receiver Roddy White says it's frustrating to not be playing in this year's Super Bowl, but adds the 49ers deserve to be there. White also talks about the 49ers' secondary, says the Ravens' receivers are capable of beating San Francisco's coverage and much more. Listen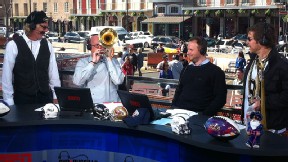 Dustin Stricker/ESPN Radio Scott Van Pelt tries his hand at playing trombone.
Giants wide receiver Victor Cruz discusses the differences between last season and this season, says the team could never pick up its level of play when it mattered the most and talks about his ongoing contract situation with the Giants, saying he'd love to stay in New York. Listen

Panthers quarterback Cam Newton says he's extremely encouraged by the way the season ended with the Panthers. Newton also says this year was a learning experience for him both personally and professionally and explains that he's always put the team first. Listen

Titans quarterback Matt Hasselbeck dishes on the difficulties of being a Super Bowl loser, says he often thinks about what could have gone differently. Hasselbeck also comments on the future of quarterbacking and cautions against reading into the result of the Super Bowl as a predictor. Listen

Redskins running back Alfred Morris chats about how exciting this season was in Washington, says he always knew he could be an contributing member of an NFL team, talks about his relationship with Robert Griffin III and more. Listen

18-time Olympic gold medalist Michael Phelps talks about his relationship with Ray Lewis and the entire Ravens roster, the advice Lewis has given him throughout his career, his plans for retirement and more. Listen

ESPN NFL analyst Trent Dilfer breaks down what he's looking out for in the Super Bowl, explains why he thinks the 49ers will win the game and talks about the thrill of being a Super Bowl champion. Listen

Yankees general manager Brian Cashman says he knows the investigation of Alex Rodriguez is a serious matter and needs to run its course. Cashman also talks about Rodriguez's future with the club and says it's still too early to determine what that may be. Listen

PODCASTS
Ryen Russillo and Danny Kanell bring their own flavor to the game, mixing some pop culture with the latest happenings.