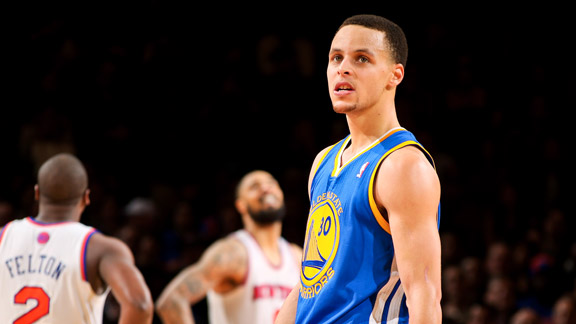 Nathaniel S. Butler/NBAE/Getty ImagesScott Van Pelt and Ryen Russillo discuss Stephen Curry's 54-point game against the Knicks.
Thursday, Scott Van Pelt and Ryen Russillo discuss Stephen Curry's incredible performance, rank the NBA's top power forwards and more. Listen to the best highlights of the show below!
Scott Van Pelt and Ryen Russillo marvel at Stephen Curry's performance against the Knicks and discuss how Curry is one of the purest shooters in the entire NBA. Listen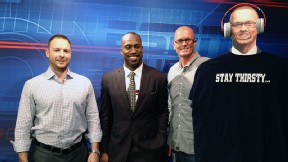 Ray Necci/ESPN Radio 49ers TE Vernon Davis with SVP & Russillo.
The New York Daily News' Frank Isola breaks down Stephen Curry's 54-point performance against the Knicks, talks about New York's recent struggles and explains how injuries to veteran players will be a factor for the Knicks down the stretch this season. Listen

49ers TE Vernon Davis says it took him a couple of days to get over the 49ers' Super Bowl loss. Davis also discusses what Colin Kaepernick brings to the club, his emotions upon hearing about Alex Smith being traded and what it's like to play for Jim Harbaugh. Listen

Eagles RB LeSean McCoy expresses his excitement to play in Chip Kelly's system, weighs in on Michael Vick's role with the club and much more. Listen

ESPN's Michael Wilbon talks about the best shooters he's ever seen play basketball, weighs in on Stephen Curry's incredible performance, talks about why Chris Bosh catches so much heat in NBA circles and more. Listen

Saint Louis coach Jim Crews discusses his team's success this season, the emphasis on defense, his path to returning to coaching, the death of former Billikens coach Rick Majerus and more. Listen

ESPN the Magazine's Chad Millman talks about the latest issue of the magazine which focuses on analytics in sports. Millman also discusses what he expects out of Mike Trout this year and explains why Stephen Curry is the best shooter in NBA history. Listen

One Big Thing - Scott Van Pelt and Ryen Russillo discuss the journey of Kansas standout Ben McLemore and the circumstances he's had to deal with up to this point in his life. Scott and Ryen also talk about the new Adidas jerseys that were recently unveiled. Listen

PODCASTS
Ryen Russillo and Danny Kanell bring their own flavor to the game, mixing some pop culture with the latest happenings.