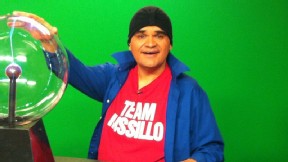 ESPN RadioKenneth Garay chants for the NBA's best players.
ESPN Deportes Radio personality and friend of SVP & Russillo Kenneth Garay works with Ryen Russillo to establish chants to pay tribute to some of the best players in the NBA. Listen as Kenneth and Ryen create chants for Golen State's Stephen Curry and Miami's LeBron James. Listen


MLB: Mets at Yankees
7:00 p.m. - 11:30 p.m. ET
Listen


Updates |

Deportes

ESPN THE MAGAZINE
You can also find the guys in ESPN The Magazine. SVP & Russillo on camp as NFL teams slog through the dog days of training. More »
SVP & RUSSILLO'S FAVORITE DROPS
INSIDER - SIGN UP TODAY!
Listen to SVP & Russillo -- commercial free, either streaming or as a podcast!
SVP & Russillo
Fri. 4/24 (2 Segments)
PODCASTS
A daily best of SVP & Russillo on ESPN Radio.
BEST OF SVP & RUSSILLO ON ESPN RADIO: KENNETH'S CHANTS FEBRUARY 28