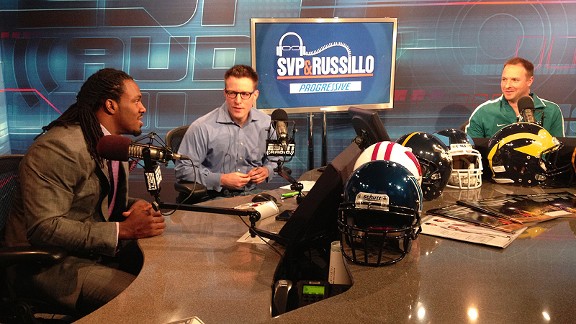 Ray Necci/ESPN RadioNFL running back Steven Jackson talks to Chris Cotter and Ryen Russillo about his future in the NFL.
Friday, Ryen Russillo and Chris Cotter discuss the Thunder's win over the Knicks, the college basketball bubble and much more. Listen to the best highlights of the show below!
NFL running back Steven Jackson talks about his departure from the Rams, what he's looking for on his next team, what he brings to a franchise, the process of being recruited by NFL clubs and much more. Listen

ESPN college basketball Insider Andy Katz says Kentucky would be out of the NCAA Tournament if it was selected today, but adds that the Wildcats have time to turn it around. Katz also comments on other teams on the bubble and discusses which teams are poised to make a deep run. Listen

PODCASTS
Ryen Russillo and Danny Kanell bring their own flavor to the game, mixing some pop culture with the latest happenings.