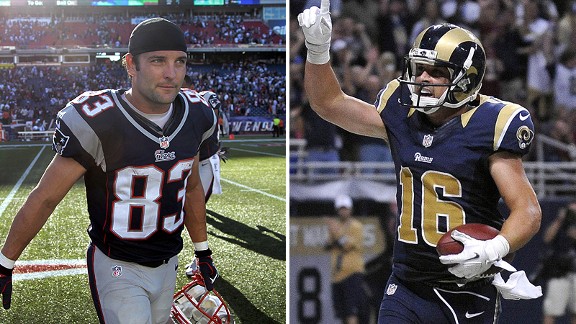 AP PhotoMike Reiss talks about Wes Welker going to Denver and what Danny Amendola brings to the Patriots.
Thursday, Scott Van Pelt and Ryen Russillo discuss Wes Welker leaving New England for Denver, Kobe Bryant's injury and much more. Listen to the best highlights of the show below!
ESPNBoston.com's Mike Reiss chats about Tom Brady's disappointment upon hearing the news of Wes Welker's signing with the Broncos, discusses what Danny Amendola brings to the Patriots, addresses New England's other priorities this offseason and more. Listen

Cardinals wide receiver Larry Fitzgerald says he hasn't been paying too much attention to free agency this year, comments on Arizona's quarterback situation, says he's looking forward to playing for Bruce Arians and discusses the moves the 49ers and Seahawks have made in the NFC West recently. Listen

Falcons wide receiver Roddy White talks about the humanitarian trip he's on in Africa, expresses his delight upon hearing the news that Tony Gonzalez will return for another season in Atlanta, comments on his beef with Seahawks cornerback Richard Sherman and much more. Listen

SVP & Russillo channel the boys from Boston's reaction to Wes Welker leaving the Patriots for the Broncos as they take The Pulse of the Nation. Listen

Scott Van Pelt and Ryen Russillo examine Bill Belichick's recent tweets from his girlfriend's account and determine which ones are real and which ones are fake. Listen

ESPN the Magazine's Chad Millman discusses how he's preparing for this year's NCAA Tournament, explains why he's enthralled by the Nuggets, talks about the latest issue of the magazine and more. Listen

One Big Thing - Scott Van Pelt and Ryen Russillo discuss the end of the Big East Tournament as we know it and talk about how much the conference meant to basketball fans over the years. Listen

PODCASTS
Ryen Russillo and Danny Kanell bring their own flavor to the game, mixing some pop culture with the latest happenings.