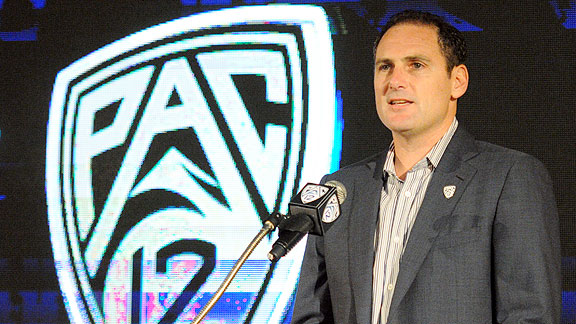 Chris Williams/Icon SMIPac-12 commissioner Larry Scott tells Scott Van Pelt why Ed Rush won't be fired at this time.
Tuesday, Scott Van Pelt discusses the Pac-12 officiating situation, criticisms of Geno Smith and much more. Listen to the best highlights of the show below!
Pac-12 commissioner Larry Scott talks about his reaction to hearing that Ed Rush targeted Arizona's Sean Miller, says it's his understanding that Rush didn't intend to be taken seriously when he made his comments but admits that Rush used poor judgment in saying what he said. Miller adds that what Rush did is not considered a fireable offense based on the information he has now but says evaluations will continue. Listen

Scott Van Pelt discusses the allegations that Ed Rush targeted Arizona coach Sean Miller and says although he typically isn't a reactionary person, there's no way Rush should be able to keep his job. Listen

CBS Sports' Jeff Goodman talks about his story which focuses on Pac-12 official Ed Rush targeting Arizona's Sean Miller. Goodman says Rush needs to be relieved of his duties immediately. Goodman also discusses USC's hiring of Andy Enfield and explains why Enfield is a poor choice for the Trojans. Listen

ESPN's Bomani Jones addresses Nolan Nawrocki's criticism of West Virginia quarterback Geno Smith. Jones says he won't accuse Nawrocki of being racist but believes there are still racial generalizations of black quarterbacks by the public at large. Listen

ESPN NFL analyst Trent Dilfer talks about the quarterback carousel in the NFL over the past few weeks and believes all the quarterbacks on the move will benefit from a change in scenery. Listen

ESPN MLB Insider Tim Kurkjian discusses the excitement of MLB's Opening Day, marvels at Clayton Kershaw's performance against the Giants, says Kershaw's contract will exceed the one Justin Verlander recently signed and explains why the Red Sox and Yankees are headed in two different directions this season. Listen

One Big Thing - Scott Van Pelt talks about Nolan Nawrocki's harsh criticisms of Geno Smith and welcomes in freelance writer Eric Edholm to discuss what type of person and professional Nawrocki is. Listen

PODCASTS
Ryen Russillo and Danny Kanell bring their own flavor to the game, mixing some pop culture with the latest happenings.