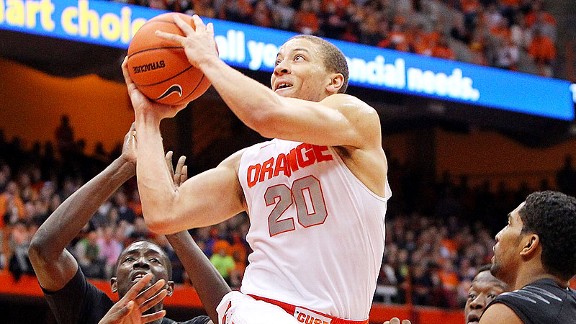 Nate Shron/Getty ImagesSyracuse's Brandon Triche talks about how the Orange made it to the Final Four after a rough stretch.
Thursday, Scott Van Pelt and Ryen Russillo discuss the scandal at Auburn, the finals of the "SVP & Russillo TV Moms Bracket" and much more. Listen to the best highlights of the show below!
Syracuse guard Brandon Triche gives his thoughts on Syracuse's ability to rebound from a tough stretch near the end of the season, talks about his role in the Orange's vaunted zone defense and the squad's game plan when the play Michigan on Saturday. Listen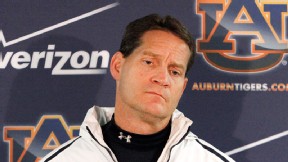 AP Photo/Butch DillSVP & Russillo tackle the scandal at Auburn.
Big East commissioner Mike Aresco discusses the transition from the Big East to the new American Athletic Conference, his plans for keeping the new conference viable, the teams which will ultimately be members and much more. Listen

Texas Tech coach Tubby Smith chats about his departure from Minnesota, his new job with Texas Tech and how he hopes to build the program there. Smith also discusses the state of college basketball coaching and if the approaches of coaches need to change. Listen

Scott Van Pelt and Ryen Russillo talk about the scandal which is taking shape with the Auburn football program and say unfortunately a story like this should surprise nobody considering the current climate of college athletics. Listen

ESPN the Magazine's Chad Millman chats about the latest issue of the magazine, some of the more interesting photographs featured in the issue and what he expects to see this weekend in the Final Four. Listen

The boys from Boston return for an all new Pulse of the Nation which tackles the Red Sox, Jaromir Jagr and the possibility of buying a hobbit. Listen

PODCASTS
Ryen Russillo and Danny Kanell bring their own flavor to the game, mixing some pop culture with the latest happenings.