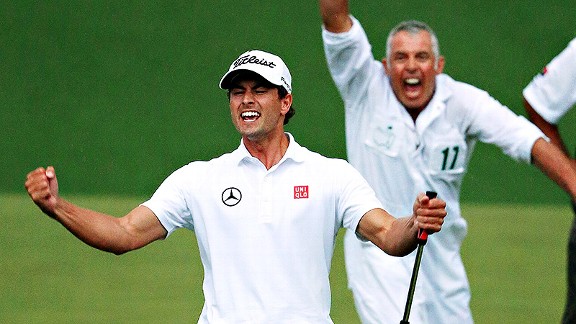 Andrew Redington/Getty ImagesThe Golf Channel's Rich Lerner talks about Adam Scott's victory over Angel Cabrera at the Masters.
Monday, Ryen Russillo and Adnan Virk discuss Adam Scott's victory at the Masters, Kobe Bryant's achilles injury and much more. Listen to the best highlights of the show below!
ESPN's Scott Van Pelt talks about Adam Scott's win at the Masters and describes how much Scott is liked by his fellow players on the PGA Tour. Van Pelt also recalls what it was like in Augusta when people started to find out about Tiger Woods' penalty. Listen

Golf Channel's Rich Lerner says the playoff between Adam Scott and Angel Cabrera was an example of what makes sports great. Lerner also weighs in on the penalty given to Tiger Woods and says it was the correct decision not to disqualify Woods. Listen

Skateboarding legend Tony Hawk discusses his personal history with the X Games and talks about his level of excitement regarding the upcoming games. Listen

PODCASTS
Ryen Russillo and Danny Kanell bring their own flavor to the game, mixing some pop culture with the latest happenings.