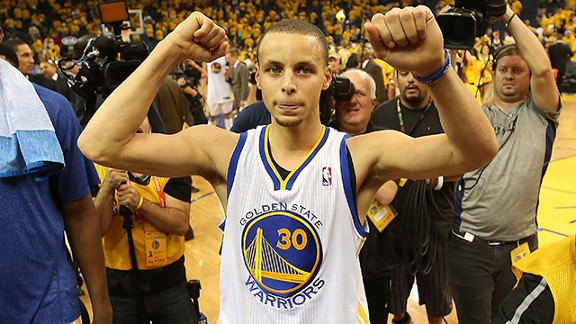 Jed Jacobsohn/Getty ImagesSVP & Russillo say Stephen Curry and the Warriors showed heart in their win over the Nuggets.
Friday, Scott Van Pelt and Ryen Russillo talk about the NBA playoffs, take the "Pulse of the Nation" and much more. Listen to the best highlights of the show below!
SVP & Russillo dish on the Warriors' win over the Nuggets and say despite Golden State's struggles late in the game, they showed a lot of heart. They also say Stephen Curry is becoming a bona fide star but probably can't carry the Warriors past the Spurs in the next round. Listen

ESPN's Michael Wilbon says the Thunder are clearly hurt by the loss of Russell Westbrook, says the series between the Celtics and Knicks has become nearly impossible to predict, discusses Carmelo Anthony's reputation and Stephen Curry's rise to stardom. Listen

ESPN NY 98.7 FM's Ryan Ruocco talks about the confidence the Nets have after forcing Game 7 against the Bulls, the panic in New York surrounding the Knicks' series against the Celtics and much more. Listen

ESPNBoston.com's Chris Forsberg dishes on the Celtics' outlook heading into Game 6 against the Knicks, if they have the endurance to get through the rest of the series, the future of the franchise after this season and more. Listen

Buccaneers GM Mark Dominik discusses the process of trading for Darrelle Revis, how the club views Revis' future in Tampa, the decision to select QB Mike Glennon in the 3rd round of this year's draft and what that means for starting QB Josh Freeman. Listen

After a busy week in Boston, the guys take The Pulse of the Nation. Listen

One Big Thing - Scott Van Pelt and Ryen Russillo talk about Texas A&M's decision to expand its stadium and say although the Aggies had a fantastic year, the school must also be careful not to overextend its resources based on a single hot stretch. Listen

Scott and Ryen stop by The Herd with Colin Cowherd to chat about Knicks-Celtics, Carmelo Anthony, Kobe Bryant, the future of Wrigley Field and more. Listen

PODCASTS
Ryen Russillo and Danny Kanell bring their own flavor to the game, mixing some pop culture with the latest happenings.