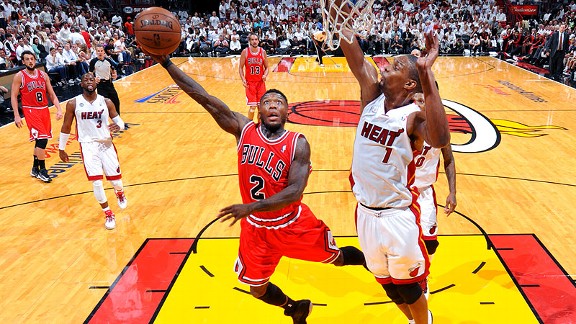 Jesse D. Garrabrant/NBAE/Getty ImagesSVP & Russillo say Nate Robinson's swagger and confidence is propelling the Bulls against the Heat.
Tuesday, Scott Van Pelt and Ryen Russillo talk about the Bulls' upset of the Heat, a thriller in San Antonio and much more. Listen to the best highlights of the show below!
SVP & Russillo discuss the Bulls stunning the Heat in Game 1, saying Chicago is confident that they could beat anyone right now, adding that a lot of the team's confidence has to do with Nate Robinson's fearless attitude. Listen

ESPN.com Heat Index reporter Michael Wallace says the Heat got a wake up call in Monday's loss to the Bulls but adds that Miami is still clearly the better team. Wallace says he still expects the Heat to win the series easily but in order to do that they'll have to toughen up. Listen

SVP & Russillo talk about the Spurs' comeback over the Warriors and say although Steph Curry had an incredible game, the Spurs showed incredible resolve and the heart of a veteran team late in the game into overtime. Listen

Oregon coach Mark Helfrich dishes on the thrill of taking over for Chip Kelly, discusses what aspects of the program will be the same as they were under Kelly and what will be different. Helfrich also chats about the pressure he faces due to the success of the program in the past several seasons. Listen

ESPN MLB Insider Tim Kurkjian talks about what's wrong with Roy Halladay, discusses the Phillies' approach for the remainder of the season, says the Dodgers also may need to change their outlook on the season and weighs in on Clay Buchholz's first game after being accused of throwing spit balls. Listen

SVP & Russillo play the inaugural edition of "Who Hates Me on Twitter?" Listen

One Big Thing - Scott Van Pelt and Ryen Russillo talk about the Dolphins' demand for a new stadium in Miami and say while their desire for a new stadium is understandable, it's unfair to demand the city pay for a stadium after the debacle with the Marlins. Listen

PODCASTS
Ryen Russillo and Danny Kanell bring their own flavor to the game, mixing some pop culture with the latest happenings.