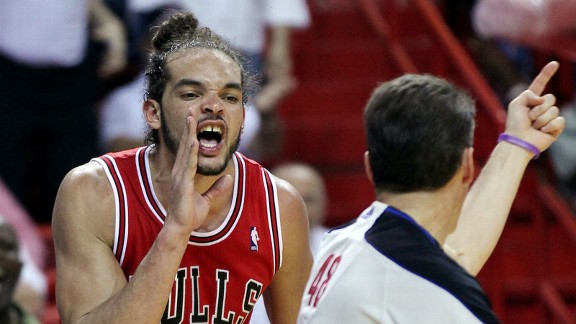 John J. Kim/Chicago Tribune/MCTRyen Russillo says Joakim Noah and the Bulls let their emotions get the best of them in Game 2.
Thursday, Ryen Russillo talks about the NBA playoffs, accusations against David Ortiz and more. Listen to the best highlights of the show below!
Ryen Russillo discusses Wednesday night's playoff action and says fans were fooled by Chicago's performance in Game 1, while both teams showed their true colors in Game 2. Russillo also talks about the Warriors' win over San Antonio and says Golden State's backcourt could carry the Warriors to a series win. Listen

ESPN NBA analyst Chris Mullin says the Heat's defense deserves a lot of credit, comments on the officiating in that series and more. Mullin also talks about the Warriors' resolve against the Spurs and says Stephen Curry and Klay Thompson are so tough to defend because they're incredibly talented at making difficult shots. Listen

ESPN's Michael Wilbon says he was extremely surprised by Golden State's win against the Spurs. Wilbon notes that the Warriors have an incredible home-court advantage and could take complete control of the series in Oakland. Wilbon also explains why he doesn't think Derrick Rose will try to play under any circumstance this postseason. Listen

Bulls.com's Sam Smith dishes on the Heat's dominant performance in Game 2, says Noah and Robinson showed their flaws in the game, dishes on the latest updates regarding Derrick Rose's health and more. Listen

ESPN the Magazine's Chad Millman discusses the fan who verbally abused Joakim Noah, the wider issue of the relationship between spectators and fans and much more. Listen

Ryen Russillo weighs in on the latest accusations surrounding David Ortiz and says although Ortiz's performance has defied age it's unfortunate that suspicions always come up no matter what player is having a good season. Listen

PODCASTS
Ryen Russillo and Danny Kanell bring their own flavor to the game, mixing some pop culture with the latest happenings.