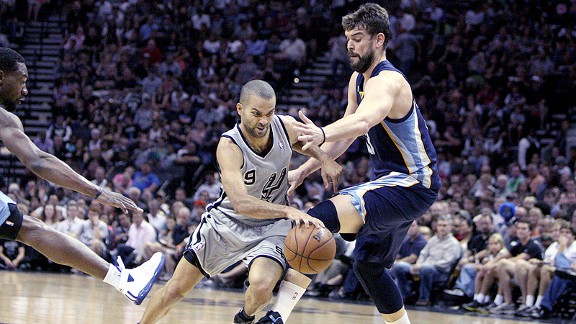 Troy Taormina/USA TODAY SportsTim Legler says the Grizzlies need to make defensive adjustments if they want to have a chance.
Tuesday, Ryen Russillo and Chris Broussard discuss the NBA playoffs, the destination for future Super Bowls and much more. Listen to the best highlights of the show below!
ESPN NBA analyst Tim Legler says defensive breakdowns led to the Spurs' blowout of the Grizzlies in Game 1. Legler also talks about what the Pacers have to do to remain competitive against the Heat and says he thinks the series will go seven games. Listen

Ryen Russillo and Chris Broussard react to the news that Vinny Del Negro will not return as coach of the Clippers, discuss the reasons for Del Negro's dismissal and project what might be next for the Clippers. Listen

Grantland.com's Zach Lowe discusses the defensive adjustments the Grizzlies need to make in Game 2, reacts to the Clippers' decision to let Vinny Del Negro go and talks about Alonzo Mourning's comments comparing LeBron James to Michael Jordan. Listen

Ryen Russillo and Chris Broussard weigh in on Alonzo Mourning's comments about LeBron James being better than Michael Jordan and point out that Mourning is contradicting himself. The guys also talk about some lingering resentment former players have towards Jordan and discuss if James truly belongs in the discussion as the best player ever. Listen

ESPN MLB Insider Tim Kurkjian explains why Don Mattingly might take the fall for the Dodgers' struggles even though he doesn't deserve to be fired. Kurkjian also gives his take on Matt Kemp's struggles, Patrick Corbin's early success, the Indians' hot start and where Miguel Cabrera's incredible run puts him historically. Listen

Ryen Russillo and Chris Broussard take over for Colin on The Herd and discuss whether it's inevitable that the Heat will win another title, if the criticisms of Carmelo Anthony are fair and more. Listen

PODCASTS
Ryen Russillo and Danny Kanell bring their own flavor to the game, mixing some pop culture with the latest happenings.