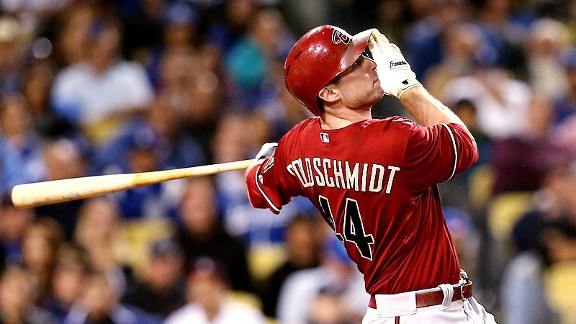 Stephen Dunn/Getty ImagesDiamondbacks 1B Paul Goldschmidt talks about his hot start to the season and the latest PED news.
Wednesday, Scott Van Pelt and Ryen Russillo react to the latest MLB news, prepare for the NBA Finals and much more. Listen to the best highlights of the show below!
Diamondbacks 1B Paul Goldschmidt talks about his incredible start to the season, the team's unlikely rise to the top of the NL West and Patrick Corbin's contributions to the squad. Goldschmidt also weighs in on MLB's latest PED controversy. Listen

ESPN MLB Insider Buster Olney talks about the latest developments in MLB's pursuit of Alex Rodriguez and Ryan Braun, says Braun's reputation will take a huge hit if he's found guilty, discusses the sentiments about the case around MLB and explains why he thinks Alex Rodriguez's career as a Yankee is over. Listen

Miami coach Al Golden discusses his efforts to get the Hurricanes back to the top of the college football world, describes the challenges of reaching those goals, discusses the young leaders on the team, what makes Miami an intriguing squad this year and much more. Listen

ESPN NBA analyst Jon Barry dishes on the start of the NBA Finals, the way the Spurs will approach the matchup, the importance of Dwyane Wade's health to the series and how he thinks the series will play out. Listen

Star of "The Internship" Vince Vaughn chats about his excitement over the Blackhawks' postseason run, discusses his love for Chicago sports and talks about his new movie. Listen

One Big Thing - Scott Van Pelt and Ryen Russillo talk about JaMarcus Russell getting tryouts with NFL teams and compare Russell's chances with making it back into the NFL with those of Tim Tebow. Listen

PODCASTS
Ryen Russillo and Danny Kanell bring their own flavor to the game, mixing some pop culture with the latest happenings.