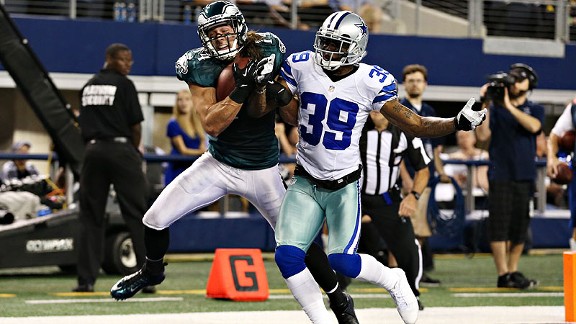 Matthew Emmons/US PresswireScott Van Pelt gives his take on Riley Cooper's use of a racial slur and his subsequent apology.
Thursday, Scott Van Pelt dishes on Riley Cooper's use of a racial slur, anticipates a suspension for Alex Rodriguez and much more. Listen to the best highlights of the show below!
Scott Van Pelt shares his thoughts on Riley Cooper using a racial slur, talks about his own relationship with the word and says, to Cooper's credit, he admitted fault and took ownership of his actions without qualification. Listen

Michigan coach Brady Hoke discusses the strong leadership on his team, the progress the program has made since he took over, his expectations for the Wolverines this season and more. Listen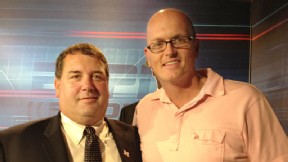 Ray Necci/ESPN RadioMichigan coach Brady Hoke with SVP in studio.
Penn State coach Bill O'Brien says his squad has incredible chemistry, commends the players who stuck with the program last season, talks about how the Nittany Lions will build on the success of 2012 and discusses the challenges of recruiting under NCAA sanctions. Listen

Michigan State coach Mark Dantonio talks about keeping the Spartans competitive in the Big Ten, the atmosphere in the state and feeling disrespected by rivals like Michigan, Notre Dame and others. Listen

Bengals quarterback Andy Dalton dishes on becoming more of a vocal leader in the team's locker room this season, discusses what the team needs to do to take the next step in the AFC and chats about the experience of being profiled in HBO's Hard Knocks. Listen

ESPN the Magazine's Chad Millman delves into the revealing article on Johnny Manziel, talks about the lessons other college football players are learning from Manziel's mistakes and discusses the magazine's approach to covering the Biogenesis scandal. Listen

The Pittsburgh Times-Review's Rob Biertempfel chats about the excitement in Pittsburgh over the Pirates, the attention the club is gaining, manager Clint Hurdle's approach in the clubhouse and much more. Listen

PODCASTS
Ryen Russillo and Danny Kanell bring their own flavor to the game, mixing some pop culture with the latest happenings.