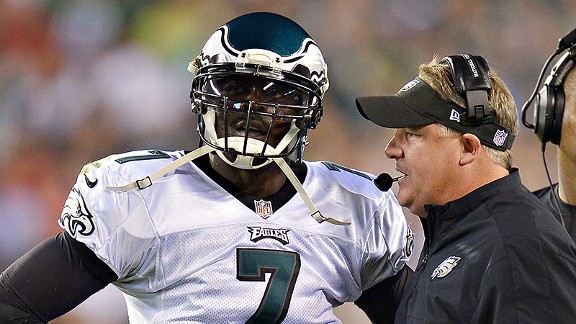 Drew Hallowell/Getty ImagesRyen and Danny chat about Chip Kelly's decision to name Michael Vick the Eagles' starting QB.
Tuesday, Ryen Russillo and Danny Kanell discuss Albert Pujols' season-ending injury, Michael Vick being named the starter in Philly and much more. Listen to the best highlights of the show below!
Ryen and Danny weigh in on Chip Kelly's decision to name Michael Vick the Eagles' starting QB and say although Vick is the smart decision at this point, he must become a more accurate passer for Philadelphia to find success this season. Listen

ESPN NFL analyst Ron Jaworski shares his thoughts on Michael Vick and Brandon Weeden being named the starters for their respective clubs this season, the development of 2nd-year quarterbacks and his rank of the top QBs in the league. Listen

Redskins WR Pierre Garcon talks about his role in Washington's offense, the attention Robert Griffin III is receiving, Mike Shanahan's coaching style and the satisfaction he gets from being a productive player with a QB other than Peyton Manning. Listen

ESPN MLB Insider Tim Kurkjian talks about how Albert Pujols' injury will impact how teams will approach long-term contracts in the future, Yasiel Puig's over-aggressive nature, Joe Girardi's comments about Ryan Dempster and more. Listen

ESPN college football analyst Brad Edwards dishes on the release of the college football Top-25 poll, talks about which teams are most likely to end the SEC's run of consecutive national titles and much more. Listen


Danny sets Ryen straight about what it's like to be a true player in another edition of "I played, you didn't." Listen

PODCASTS
Ryen Russillo and Danny Kanell bring their own flavor to the game, mixing some pop culture with the latest happenings.