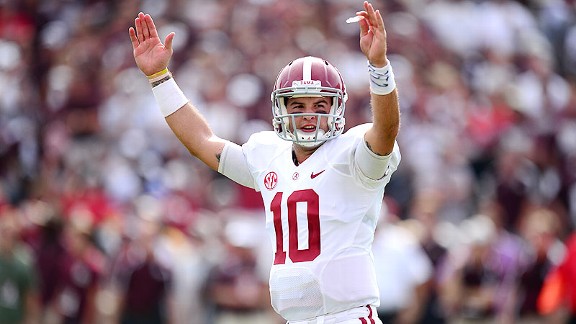 Phil Ellsworth/ESPN ImagesAlabama QB AJ McCarron tells Scott and Ryen what went right for the Crimson Tide on Saturday.
Monday, Scott Van Pelt and Ryen Russillo look back on the Seahawks' win over the 49ers, review Alabama's victory over Texas A&M and much more. Listen to the best highlights of the show below!
Alabama QB AJ McCarron discusses the Crimson Tide's win over Texas A&M, the offensive explosion in the game and lends some insight into what he said to his teammates when they trailed 14-0 in the first quarter. Listen

Seahawks CB Richard Sherman says Sunday's win over the 49ers proves that Seattle is a resilient team, talks about the impact the fans had on the game and comments on the rumors of a feud between he and Jim Harbaugh. Listen

ESPN college football analyst Danny Kanell dishes on the officiating blunder at the end of the game between Arizona State and Wisconsin, says AJ McCarron proved his value on Saturday and much more. Listen

ESPN NFL analyst Ron Jaworski talks about the Seahawks' dominant win over the 49ers, the continued struggles of Robert Griffin III and more. Listen

PODCASTS
Ryen Russillo brings his own flavor to the sports talk game, mixing some pop culture in with the latest happenings in sports.