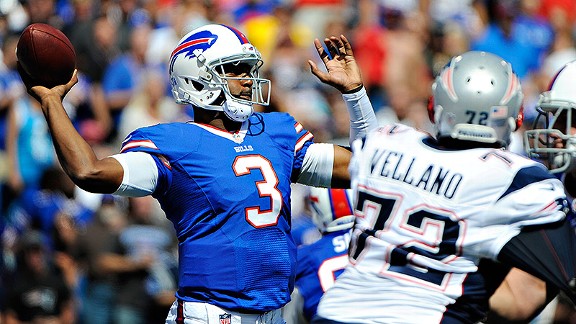 AP Photo/Gary WiepertBills quarterback EJ Manuel tells Scott Van Pelt about his excitement after his first win in the NFL.
Tuesday, Scott Van Pelt talks about a tough loss for the Steelers, Bo Pelini's controversial comments and much more. Listen to the best highlights of the show below!
Bills QB EJ Manuel talks about getting his first NFL win, the emotions he expressed after the game, his development in his rookie season, this week's game against the Jets and more. Listen

Clemson coach Dabo Swinney discusses the importance of Thursday's game against NC State, Clemson's reputation as choke artists, Tajh Boyd's leadership qualities and the pressure that comes with being highly ranked. Listen

Broncos linebacker Danny Trevathan talks about his blunder in the opening week of the season, his role on the Broncos' defense and the level of talent on Denver's roster. Listen

ESPN NFL analyst Trent Dilfer says the Steelers are at the mercy of their lackluster offensive line, comments on Robert Griffin III's recovery progress and much more. Listen

ESPN MLB Insider Tim Kurkjian dishes on the recent struggles of the Rangers, the tight American League Wild Card race and much more. Listen

SVP shares his thoughts on Bo Pelini's profanity-laced tirade and says although what Pelini said was inappropriate, Nebraska fans need to keep the entire course of events in perspective. Listen

PODCASTS
Ryen Russillo and Danny Kanell bring their own flavor to the game, mixing some pop culture with the latest happenings.