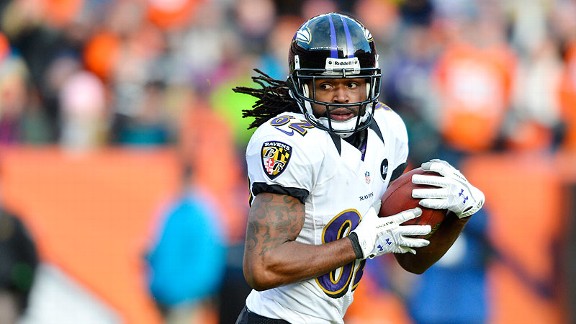 Ron Chenoy/USA TODAY SportsRavens wide receiver Torrey Smith talks about last week's win and the leadership void in Baltimore.
Thursday, Scott Van Pelt discusses the feud between the Braves and Brewers, Robinson Cano's hefty contract expectations and much more. Listen to the best highlights of the show below!
Ravens WR Torrey Smith talks about Baltimore's win over the Texans last week, the players who are filling the leadership void left by Ray Lewis and Ed Reed and discusses this week's game against the Bills. Listen

Northwestern coach Pat Fitzgerald discusses his team's 4-0 start, preparing to face Ohio State, Buckeye fans at Ryan Field, how Chicago has embraced the Wildcats as Chicago's Big Ten team and more. Listen

ESPN the Magazine's Chad Millman dishes on Robert Griffin III's recovery, the impact it's having on his image, his importance to the Redskins' franchise and the latest issue of the magazine. Listen

ESPN's Michael Wilbon weighs in on the feud between the Braves and Brewers, Jim Delaney's comments about paying college athletes, the importance of this week's game for the Redskins and more. Listen

NFL Network's Daniel Jeremiah says the 49ers need to beat the Rams to have any chance at home-field advantage in the playoffs, talks about the biggest surprises thus far in the season and much more. Listen

ESPN college football analyst Robert Smith gives his perspective on Big Ten commissioner Jim Delaney's comments on paying players and talks about the big SEC games on the weekend slate. Listen

PODCASTS
Ryen Russillo and Danny Kanell bring their own flavor to the game, mixing some pop culture with the latest happenings.