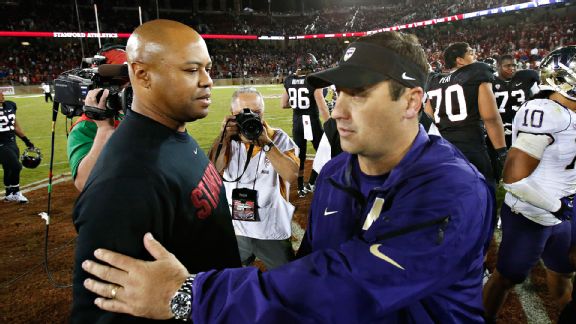 Stephen Lam/Getty ImagesStanford coach David Shaw vehemently denies his team faked injuries against Washington.
Thursday, Scott Van Pelt discusses another year of postseason success for the Cardinals, the struggles of the Giants and much more. Listen to the best highlights of the show below!
Stanford coach David Shaw talks about the Cardinal's win over Washington, adamantly denies that his team fakes injuries, discusses Stanford's style of play and more. Listen

ESPN college football analyst Robert Smith talks about the big Pac-12 matchup between Oregon and Washington, says Missouri doesn't have the firepower to keep up with Georgia and more. Listen

ESPN MLB Insider Buster Olney dishes on the phenomenal baseball culture in St. Louis, looks ahead to Game 5 between the A's and Tigers, Joe Girardi's decision to stay with the Yankees and more. Listen

ESPN MLB analyst John Kruk chats about the Cardinals' win over the Dodgers, the emergence of several young stars over the past several seasons and much more. Listen

ESPN's Michael Wilbon discusses Northwestern's loss to Ohio State last week, the Bears' matchup with the Giants and explains why he feels the Cardinals need to be considered an elite sports franchise. Listen

ESPN the Magazine's Chad Millman shares his insight on why Baylor is gaining so much favor amongst Las Vegas insiders, the enormous spread in the Broncos-Jaguars game and the struggles of the Giants. Listen

PODCASTS
Ryen Russillo and Danny Kanell bring their own flavor to the game, mixing some pop culture with the latest happenings.