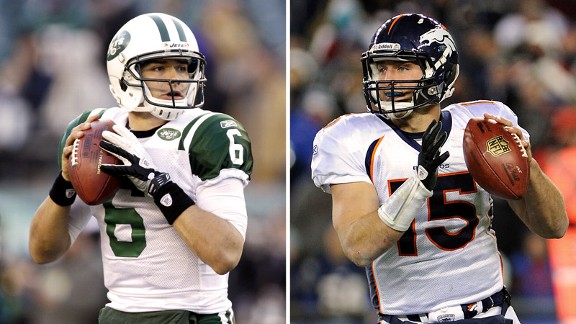 AP PhotoThere is a lot riding on Mark Sanchez for the Tim Tebow experiment to work in New York.
The Giants win Super Bowls and immediately afterwards, the Jets seek media attention. Last time is was Brett Favre, this time it's Tim Tebow. The Giants act and the Jets react. The Jets don't have a strong inner scoreboard. Listen

ESPN NFL analyst Damien Woody says QB Mark Sanchez can't be happy that Tim Tebow is joining the team as Sanchez heads into the most critical season of his career. Woody says this is a bad fit and highly combustible. Listen

Former New York Jets QB Ken O'Brien says the timing seems odd for the Jets to bring in Tim Tebow. Plus, O'Brien says the relationship between coach Rex Ryan and QB Mark Sanchez is strained at best. Quarterbacks need their confidence built up as much as possible. Listen

ESPN NFL analyst Trent Dilfer says he hates the Jets' move to bring in Tim Tebow. Dilfer says Rex Ryan's style already limits reps for quarterbacks. Now Tim Tebow will take away some reps for Mark Sanchez as well. This is a train wreck and a terrible fit. Listen

ESPN's Rick Reilly says even if Peyton Manning doesn't work out in Denver, John Elway will be able to start over without Tim Tebow on the roster. Elway never believed Tebow could be a starter in the league. Plus, Reilly says Tebow moving to the Jets is bad for Tebow and is bad for Jets QB Mark Sanchez. Reilly also weighs in on the NFL punishing the New Orleans Saints and their coaches and the book by Hank Haney on Tiger Woods. Listen

ESPN NFL analyst Steve Young says Jets QB Mark Sanchez is not going to like having Tim Tebow around, but it could be the best thing for him. Listen

PHOTO GALLERIES
Check out the highlights of our great visit to ESPN The Weekend.

The Herd's Rose Bowl adventure. Check it out!
PODCASTS
A daily dose of the best of The Herd with Colin Cowherd.