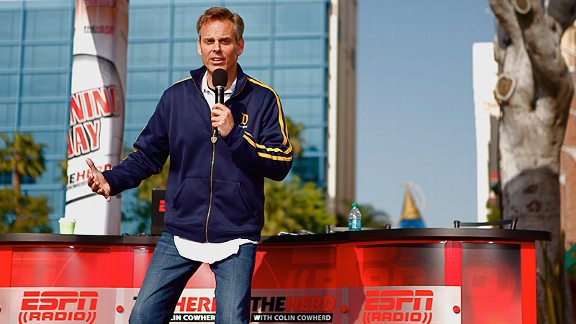 Josh Edwards/Evolve IMGColin Cowherd works the crowd at Downtown Disney in Anaheim, California.
Live from Downtown Disney in Anaheim, California -- Photo gallery

Colin Cowherd says in all businesses, there is the public language and the language spoken behind the curtain. This is not a yoga class or a cooking class. This is professional football. The worst part of Gregg Williams' speech was when he targeted Michael Crabtree's ACL. The rest of it was fairly typical for a defensive coach motivating his players. The NFL wants to distance themselves from all of this though because of lawsuits and the increased focus on head injuries. Gregg Williams is not a lone wolf. He's not a coach that went rogue. There are plenty more like him in the NFL. Listen

Colin Cowherd spans the globe in Orlando, New Orleans and Augusta. Listen

ESPN NBA Insider Chris Broussard says he thinks the Orlando Magic will keep coach Stan Van Gundy for the rest of this season and then part ways in the offseason. Broussard says the tension between Van Gundy and center Dwight Howard has been going on for years. Broussard also says Heat-Thunder felt like a Finals preview. Plus, Broussard talks about how the Lakers feel about center Andrew Bynum. Listen

ESPN New York's Ian O'Connor says he's never seen a moment unfold the way the Stan Van Gundy-Dwight Howard scene did in front of the media on Thursday. O'Connor says other players have gotten coaches fired in the NBA but they have to be worth the trouble. O'Connor doesn't believe Howard is worth it. Listen

Colin Cowherd makes his 2012 MLB predictions. Cowherd takes the Tigers to beat the Cardinals in the World Series. Listen

ESPN MLB analyst Orel Hershiser makes his predictions for the American and National Leagues and talks about Bobby Valentine in Boston, the designated hitter, the Rangers, and Albert Pujols as this year's MVP. Listen

Angels pitcher CJ Wilson shares his interesting background, talks about growing up in Southern Cal and coming back to play, calls Albert Pujols' focus machine-like and discusses why it's important to over-prepare. Listen

TV legend Larry King reacts to seeing Magic Johnson together with Frank McCourt, expects the fans to come back, thinks Los Angeles can be a wild-card team and shares some Vin Scully memories. Listen

Two for the Road - Colin Cowherd shares two stories that made him laugh. Listen

PHOTO GALLERIES
Check out the highlights of our great visit to ESPN The Weekend.

The Herd's Rose Bowl adventure. Check it out!
PODCASTS
Listen to a daily dose of the greatest rants, the wackiest moments and more from The Herd with Colin Cowherd.