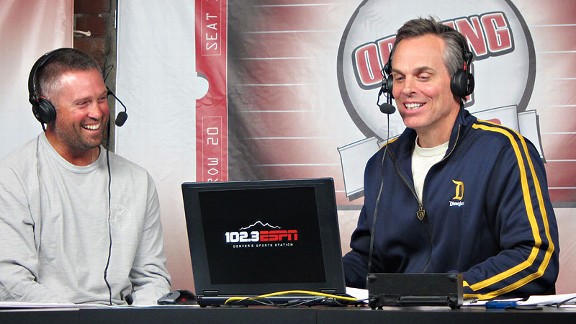 ESPN RadioColorado Rockies OF Michael Cuddyer joins Colin Cowherd at Jackson's in Denver.
Live from Jackson's in Denver, Colorado -- Photo gallery

Colin Cowherd says Bubba Watson may not go on to win more majors, but he capitalized on his opportunity and enjoyed the moment. There was something very special about his win at the Masters. Watson had the proper perspective about his win. Plus, Cowherd discusses the return of Bulls PG Derrick Rose. Listen

Colin Cowherd spans the globe in Augusta, Boston and New York. Listen

ESPN golf analyst Curtis Strange says Masters winner Bubba Watson swings naturally. He's not robotic. He does it his own way. Strange says players can be overcoached and Watson proves you can win without all of that coaching. Right now Tiger Woods wouldn't know how to make a natural swing. Strange also weighs in on Phil Mickelson's game.
Listen

New York Post writer Joel Sherman says he thinks the Yankees will win 90-97 games this year despite the 0-3 start. Sherman breaks down the Yankees' starting rotation and says the pitching hasn't looked good early on. Listen

Colorado Rockies OF Michael Cuddyer says he feels like a rookie again after 11 years in Minnesota moving over to the National League. Cuddyer also says he's never bought a house because he doesn't want to anger the baseball gods. Listen

ESPN NFL Insider Adam Schefter weighs in on the circumstances of the Gregg Williams tape being released. Plus, Schefter says Broncos WR Eric Decker is already working out with QB Peyton Manning. Listen

Denver Broncos WR Eric Decker talks about what it's like to work out with QB Peyton Manning. Decker says Manning is throwing great and his arm strength is where is needs to be. Decker also talks about what the run was like last season with QB Tim Tebow. Listen

San Francisco Giants manager Bruce Bochy talks about the start of the season and the return of catcher Buster Posey. Bochy says Posey has a great combination of confidence, intelligence, talent, mental toughness and emotional control. Those are some of the qualities that separate the great players from average players. Listen

Two for the Road - Colin Cowherd shares two stories that made him laugh. Listen

PHOTO GALLERIES
Check out the highlights of our great visit to ESPN The Weekend.

The Herd's Rose Bowl adventure. Check it out!
PODCASTS
A daily dose of the best of The Herd with Colin Cowherd.