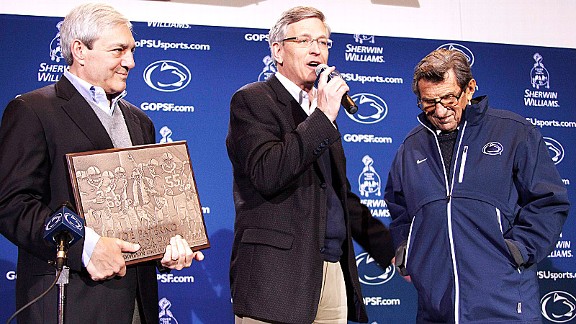 AP Photo/Gene J. PuskarThe Freeh Report says Paterno and others showed "callous and shocking disregard for child victims."
With Doug Gottlieb filling in for Colin Cowherd
Yahoo! Sports' Dan Wetzel says Penn State coach Joe Paterno did a lot of great things, but the series of mistakes he made with Jerry Sandusky is impossible to overcome. It was an unbelievable failure of ethics. Listen

Yahoo! Sports' Kristian Dyer says the NCAA doesn't normally sanction programs in cases like this, but they may need to step in and make an example of Penn State. Listen

ESPN's Jeremy Schaap explains the Freeh Report's findings of an active cover-up by Joe Paterno and Penn State officials regarding the Jerry Sandusky case. Schaap doesn't see how Paterno's statue remains standing after this. Listen

Doug Gottlieb spans the globe in Brooklyn and Penn State with the Newark Star-Ledger's Colin Stephenson and the Altoona Mirror and ESPN Radio 1450's Cory Giger to get the latest on the Brooklyn Nets and the Freeh Report. Listen

ESPN New York's Ian O'Connor blames Dwight Howard for not being in a Nets uniform right now. O'Connor also talks about Steve Nash to the Lakers and says the 1992 Dream Team would beat this year's team in its prime. Listen

PHOTO GALLERIES
Check out the highlights of our great visit to ESPN The Weekend.

The Herd's Rose Bowl adventure. Check it out!
PODCASTS
A daily dose of the best of The Herd with Colin Cowherd.