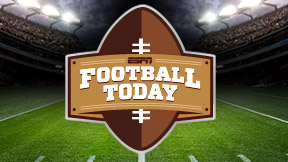 Host: Robert Flores
Email: footballtoday@espnradio.com

Host Robert Flores delivers the latest news, views, power rankings and stats from the NFL.

Podcast archive: Football Today
FANTASY FOCUS
Check out the Fantasy Focus page for the latest podcasts, Board bets and nonsense that you have come to expect from Matthew Berry, Nate Ravitz, Pod Vader and company. Fantasy Focus »
ABOUT THE HOST

Robert Flores
Robert Flores has been with ESPN since 2005. Flores, who also hosts "SportsCenter" and "Fantasy Football Now," is a graduate of the University of Houston. More »
FOOTBALL TODAY
Friday, May 27
- Ian Fitzsimmons breaks down the latest from OTAs around the league and talks Cowboys' expectations for Ezekiel Elliott and the fines/penalties handed down to the Ravens.
Listen

|
Download
Wednesday, May 25
- Ian Fitzsimmons discusses the latest surrounding Jordy Nelson's recovery, why Tyler Eifert is just now having surgery, Super Bowl hosts & Mike Triplett on Benson's sad story surrounding the Saints.
Listen

|
Download
Friday, May 20
- Ian Fitzsimmons welcomes Phil Savage to discuss if the Cowboys made a mistake by taking Zeke Elliott and Michael DiRocco explains how long Jalen Ramsey could be out for.
Listen

|
Download
PODCAST HELP
New To Podcasts?
It's easy. All you have to do is click the iTunes button below to subscribe to this podcast. Or you can click the RSS button to get the feed URL for other popular podcatchers.
If you don't already have iTunes, you can download it here.