Mike & Mike's Two-A-Days
Greeny and Golic provide previews for all 32 teams before the NFL season begins
Updated:
September 4, 2012, 7:57 AM ET
Mike & Mike in the Morning on ESPN Radio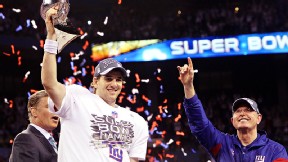 Barry Chin/The Boston Globe/Getty ImagesCan the Giants defend their Super Bowl title?
Training camps have opened and the return of the NFL is right around the corner. Mike Greenberg and Mike Golic will look ahead to the 2012 season for all 32 teams in "Two-A-Days."
If all of this isn't enough to fulfill your football fix, you can find more of ESPN Radio's NFL content here.
Mike & Mike's Two-A-Days
| AFC East | Date | Greeny | Golic | NFC East | Date | Greeny | Golic |
| --- | --- | --- | --- | --- | --- | --- | --- |
| Buffalo | Listen | 8-8 | 8-8 | Dallas | Listen | 9-7 | 9-7 |
| Miami | Listen | 5-11 | 5-11 | New York | Listen | 10-6 | 10-6 |
| New England | Listen | 12-4 | 12-4 | Philadelphia | Listen | 10-6 | 10-6 |
| New York | Listen | 6-10 | 6-10 | Washington | Listen | 6-10 | 7-9 |
| AFC North | Date | Greeny | Golic | NFC North | Date | Greeny | Golic |
| --- | --- | --- | --- | --- | --- | --- | --- |
| Baltimore | Listen | 11-5 | 11-5 | Chicago | Listen | 11-5 | 9-7 |
| Cincinnati | Listen | 8-8 | 9-7 | Detroit | Listen | 10-6 | 9-7 |
| Cleveland | Listen | 4-12 | 3-13 | Green Bay | Listen | 12-4 | 11-5 |
| Pittsburgh | Listen | 10-6 | 10-6 | Minnesota | Listen | 3-13 | 4-12 |
| AFC South | Date | Greeny | Golic | NFC South | Date | Greeny | Golic |
| --- | --- | --- | --- | --- | --- | --- | --- |
| Houston | Listen | 12-4 | 10-6 | Atlanta | Listen | 11-5 | 10-6 |
| Indianapolis | Listen | 6-10 | 5-11 | Carolina | Listen | 7-9 | 8-8 |
| Jacksonville | Listen | 3-13 | 6-10 | New Orleans | Listen | 7-9 | 10-6 |
| Tennessee | Listen | 8-8 | 7-9 | Tampa Bay | Listen | 6-10 | 6-10 |
| AFC West | Date | Greeny | Golic | NFC West | Date | Greeny | Golic |
| --- | --- | --- | --- | --- | --- | --- | --- |
| Denver | Listen | 9-7 | 9-7 | Arizona | Listen | 6-10 | 5-11 |
| Kansas City | Listen | 9-7 | 8-8 | St. Louis | Listen | 4-12 | 4-12 |
| Oakland | Listen | 7-9 | 7-9 | San Francisco | Listen | 10-6 | 12-4 |
| San Diego | Listen | 8-8 | 8-8 | Seattle | Listen | 8-8 | 8-8 |