Mike & Mike's Two-A-Days
Greeny and Golic provide previews for all 32 teams before the NFL season begins
Updated:
August 15, 2013, 10:13 AM ET
Mike & Mike on ESPN Radio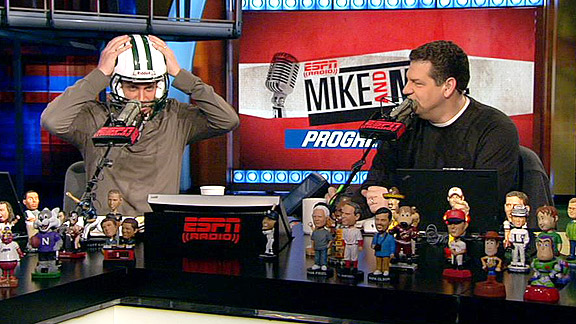 ESPN2The time has come for another edition of "Two-A-Days" on Mike & Mike.
The return of the NFL is right around the corner. Mike Greenberg and Mike Golic will look ahead to the 2013 season for all 32 teams in "Two-A-Days."
Mike & Mike's Two-A-Days
| AFC East | Date | Greeny | Golic | NFC East | Date | Greeny | Golic |
| --- | --- | --- | --- | --- | --- | --- | --- |
| Buffalo | Listen | 6-10 | 5-11 | Dallas | Listen | 7-9 | 6-10 |
| Miami | Listen | 9-7 | 9-7 | New York | Listen | 10-6 | 11-5 |
| New England | Listen | 10-6 | 10-6 | Philadelphia | Listen | 6-10 | 6-10 |
| New York | Listen | 4-12 | 4-12 | Washington | Listen | 10-6 | 9-7 |
| AFC North | Date | Greeny | Golic | NFC North | Date | Greeny | Golic |
| --- | --- | --- | --- | --- | --- | --- | --- |
| Baltimore | Listen | 8-8 | 9-7 | Chicago | Listen | 11-5 | 7-9 |
| Cincinnati | Listen | 9-7 | 10-6 | Detroit | Listen | 6-10 | 8-8 |
| Cleveland | Listen | 6-10 | 7-9 | Green Bay | Listen | 10-6 | 10-6 |
| Pittsburgh | Listen | 7-9 | 10-6 | Minnesota | Listen | 6-10 | 7-9 |
| AFC South | Date | Greeny | Golic | NFC South | Date | Greeny | Golic |
| --- | --- | --- | --- | --- | --- | --- | --- |
| Houston | Listen | 10-6 | 10-6 | Atlanta | Listen | 12-4 | 12-4 |
| Indianapolis | Listen | 11-5 | 8-8 | Carolina | Listen | 9-7 | 8-8 |
| Jacksonville | Listen | 3-13 | 4-12 | New Orleans | Listen | 9-7 | 9-7 |
| Tennessee | Listen | 6-10 | 6-10 | Tampa Bay | Listen | 8-8 | 7-9 |
| AFC West | Date | Greeny | Golic | NFC West | Date | Greeny | Golic |
| --- | --- | --- | --- | --- | --- | --- | --- |
| Denver | Listen | 11-5 | 12-4 | Arizona | Listen | 7-9 | 7-9 |
| Kansas City | Listen | 8-8 | 7-9 | St. Louis | Listen | 7-9 | 6-10 |
| Oakland | Listen | 3-13 | 3-13 | San Francisco | Listen | 11-5 | 12-4 |
| San Diego | Listen | 5-11 | 6-10 | Seattle | Listen | 11-5 | 11-5 |
SPONSORED HEADLINES
ESPN TOP HEADLINES
MOST SENT STORIES ON ESPN.COM