Carl's Lock of the Century
Updated:
December 19, 2013, 12:57 PM ET
The Scott Van Pelt Show on ESPN Radio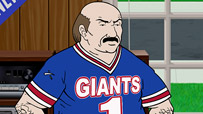 Adult SwimListen for Carl's pick every Friday!
Carl, of "Aqua Teen Hunger Force" fame, is back to delight and offend fans with another season of his Stone Cold Lock of the Century of the Week. Keep track of Carl's selections (which are made purely for entertainment purposes).

Also, check out Carl's picks from 2010, 2009 and 2008.