ESPN Radio on Your Mobile Device
Download For Free Today!
Updated:
August 22, 2012, 1:51 PM ET
ESPNRadio.com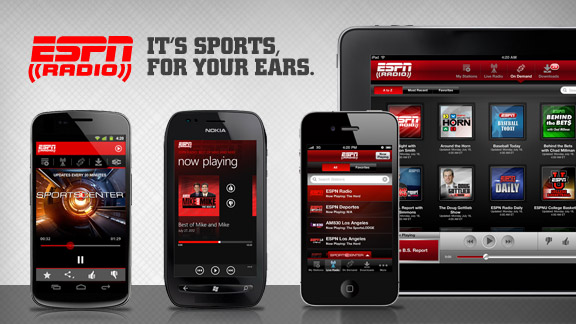 The ESPN Radio app is now available on the iPhone, iPad, Android and Windows devices.
What's in the NEW ESPN Radio App?
Introducing the new ESPN Radio App with a host of new features and functionality for sports fans. Listen live to ESPN Radio, your favorite podcasts, live play-by-play and more.
The app is free to download and includes:
Podcasts: More than 80 podcasts including The BS Report with Bill Simmons, Pardon The Interruption, Around The Horn, Fantasy Focus, Best of Mike and Mike & more.
SportsCenter: Updates every 20 minutes!
Offline Listening: Download on-demand audio content to listen offline.
Custom Station or Playlist: Search tens of thousands of audio clips by a specific topic and create a station or playlist of your favorite shows, teams, players and sports.
Listen live: To over 35 ESPN Radio stations from around the country and play-by-play from some of your favorite college and professional sports teams including every game of the World Series, College Bowl Games, BCS Championship game, UEFA EURO 2012, Wimbledon, US Open Golf and more.
Live Audio Functionality: Pause and rewind up to an hour of live audio. Note: Available on iPhone only. Android DVR coming this Fall!
myESPN Personalization: Customized audio automatically pulled into the app based on your favorites.
Top Searches: Popular searches and trends for easy access to top audio.
Recommendation Engine: Content suggestions based on your myESPN profile.
Alerts and Push Notifications: For MLB broadcasts, breaking news and more.
DOWNLOAD THE ESPN RADIO APP
MOST SENT STORIES ON ESPN.COM