Commentary
The disappearing bracket
Updated:
March 31, 2009, 2:44 PM ET
By
Jason Smith
| AllNight on ESPNRadio.com
The Case of the Disappearing Bracket. It sounds like a mystery from our youth. "The Hardy Boys and the Case of the Disappearing Bracket." I almost can see Parker Stevenson and Shaun Cassidy in their younger years, wild and free. (That was before Parker married Kirstie Alley and after Cassidy made "Da Doo Ron Ron." Even in the 1970s, actors wanted to be singers. Too bad Bruce Willis caught that vibe.) Early on, the boys would find a half an NCAA tournament bracket filled out with teams that also were clues to a buried treasure. But because the bracket was ripped in half, they would have to investigate to find the solution.
"Apparently, something happened to someone called 'Louisville' that caused this person to cross that name out angrily," they would say. A tidy hour later, a sneering villain named Stephen F. Austin (or Robert Morris or Oral Roberts) would be behind bars, but only after Frank and Joe Hardy figured out their suspect had busted the bracket dreams of so many with an early-round upset. (OK, maybe not Oral Roberts. He doesn't sound villainous at all. Kind of like the nice, old man down the street who gives you grapes when you stop by to say hello.)
Although the disappearing bracket may have a neat, wrapped-up-in-a-bow ending in our TV world (no two-parters here, that's reserved for something much more involved, such as the BCS), in real life, interest in brackets fades in dribs and drabs before the NCAA tournament ends. It's strange that way. What do I mean? We join office NCAA tournament pools, pick our Final Fours with so much care ("I accidentally spilled ketchup on VCU at lunch, it's a sign!") and gear up for the greatest three weeks in sports (not counting the buildup to the Canadian Football League's Grey Cup). Yet after one week, even though the event is really just starting, our interest in brackets and office pools wanes. Suddenly, no one cares whether you have all your Elite Eight teams left or three of your Final Four. By and large, brackets become like those razors you get in the mail every once in a while as a promotional item: It's cool to get them, but once you try them out, you end up throwing them away.
We're all into filling out our brackets and comparing with friends. We find out how they arrived at a Final Four consisting only of schools whose teams wear orange, or how they went back 10 years of trends to pick what they think is the 12-5 upset. All our conversations are the same:
[+] Enlarge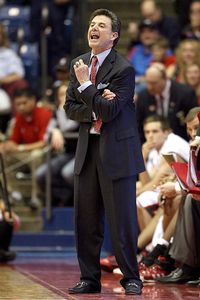 Andy Lyons/Getty ImagesLouisville and Rick Pitino's not making the Final Four ruined many brackets.
"Who's your Final Four?"
"I have UConn, Boston College -- because my brother-in-law went there, Wisconsin because I always pick one crazy school and North Carolina."
"Nice!"
And that's kind of how it goes those first few days. During the first two days of the tournament, women walk around the office carrying their brackets and assorted highlighters ("Blue is for games I've won, yellow for games I lost"), patting themselves on the back when the 8-9 game goes their way. We constantly check and recheck the pool standings, hoping to be at or near the top for office bragging rights. Then we go home for the weekend, return to work on Monday, and things are different. Kind of how I think it went for Brad Pitt. He came back home after shooting a movie, and suddenly, it wasn't just Angelina -- 11 kids were there as well. Suddenly, no one wants to hear how well you're doing, because half the people in the office are out of the running after picks didn't go their way. The people who are still in the running can't talk to you about your picks because you pose a threat to them. The excitement of the office pool dissipates like the career of Pauly Shore.
Why does this happen? Is it our short attention span? No. The NCAA tournament is the biggest "I'm in it for me" project that most of us undertake. And, like with gambling, there are winners and losers. Let's take an office in which 50 people fill out a bracket. Those 50 people can't get enough of the tournament the first week. But after the first week, 40 of them are either eliminated or on the brink of elimination and don't care anymore. You've gone from 50 people in it to just 10 in a few days. (Too bad "American Idol" doesn't work like that.) The people who are out don't care anymore, and it's hard for those who are still in contention to be amped up because the excitement level is down. It keeps you from basking in the glow of having your Sweet 16 intact. You get saddled with the image of being someone who wants to talk hoops just so he can brag about how smart he is, and it turns people off. By picking the tourney well, you instantly become smug and unlikable. (Welcome to Drew Rosenhaus' world.)
For example, this is the exact conversation I had with my wife after the Saturday Elite Eight games were over:
Me: "Yeah, Pittsburgh lost and UConn won."
My wife: "Pittsburgh lost?"
Me: "Yup. I had them in the title game, but I have UConn winning it all, so I'm OK."
My wife: "I had Pitt winning. Ugh. You can throw my bracket out. I'm toast."
Me: "You don't want to still keep track?"
My wife: "No. Here, the games are over. Change the baby's diaper, and then we'll watch 'Brotherhood.'"
There went any and all potential I had of that special spring in my step this week. Unless I wanted to be smug and unlikable. However, I like sleeping in bed and not on the couch. I also like "Brotherhood." (With "Brotherhood," it's as if Showtime decided a couple of years ago in a pitch meeting, "We want a show like "The Sopranos" and like "The Wire," but we only have enough money for one. See what you can come up with.")
It really takes the fun out of winning when only a select few people care how it turns out in the end. (That was the problem with "Life on Mars.") The only thing to assuage those who pick well and sit on pins and needles through Washington-Purdue is the prize at the end. Or whatever is at stake if you are the last man standing. It becomes all about that prize and nothing else. At least you can enjoy that! So, in effect, you go from experiencing the pureness of the event and the joy of participating in it to being consumed by its monetary reward.
Which is kind of how professional athletes are made. And now the circle of life is complete. Cue Elton John.
Jason Smith is the host of "AllNight with Jason Smith" (weekdays 1 to 5 a.m. ET/10 p.m. to 2 a.m. PT). Get in touch with him at allnight@espnradio.com.