Commentary
Don't play the Super Bowl in London
Updated:
May 5, 2009, 12:49 PM ET
By
Jason Smith
| AllNight on ESPNRadio.com
When I was 6 years old, I went to London with my parents. I remember seeing Big Ben, walking around Stonehenge and letting pigeons eat out of my hand in Piccadilly Square. Of all those things, the pigeons are what stand out the most. So there's a two-week London vacation summed up in two sentences. I think we'll be able to sum up the two weeks of a Super Bowl held in England in two sentences if, as the city of London says, they've been assured a Super Bowl, possibly as early as 2014.
I have nothing against London, or England. They've given us the Sex Pistols, "Love Actually" and Harry Potter. But I don't want to give them the Super Bowl.
NFL commissioner Roger Goodell has said that any talk about London getting a Super Bowl is premature and no bids or proposals have been exchanged. However, the office of London's mayor and "Visit London," the city's official visitor organization (How is it not called "London Calling"?) say the league has given them assurances they will get to host a game in the next few years. After all, Wembley Stadium has been host to two regular-season games so far, with a third planned for October. And I'm pretty sure they would move any scheduling conflicts, say, if Oasis were to announce they wanted to play on the day of the Super Bowl. It's quite possible they might be asked to just play at halftime.
Look, I'm all for globalization of the greatest sport in the world, but there's plenty of reasons why this idea is only slightly better than the "Jump to Conclusions" mat from "Office Space."
Economics: London officials said hosting the Super Bowl would mean $521 million to the economy. I'd first like to thank them for doing the conversion for us, since I have so much trouble differentiating Euros and Gyros. One of them has lamb in it, I know for sure. Hey, it's great that London would get that money. But I'm pretty sure we need it here, too. Miami, Phoenix and New Orleans all could use the influx of revenue just as badly. How would that look, as we try to get out from under a mountain of red ink, to have a sport we pour money into as fans pull up stakes and take their business "across the pond" for the ultimate game? I don't think England is going to give us the FA Cup in return, will it?
[+] Enlarge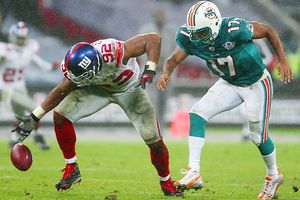 Richard Heathcote/Getty ImagesBad weather could ruin a Super Bowl in London.
Teams: You tell me players would be excited about flying six hours or more to play the biggest game of their lives in a strange environment surrounded by unfamiliarities. You'd get two teams that would come out flat because of the time change, playing in an outdated stadium in bad weather (remember, February in England is like February in the U.S., except there's no Punxsutawney Phil.) And can't you just see Jerry Jones trying to make sense of playing a Super Bowl there? "Tell me, can I still sell Pepsi in the stadium? What? What the heck is Lucozade?"
Fans: It's exciting to follow your team to the Super Bowl, and flying domestic is as cheap as it's ever been. Shelling out $200 to fly to Florida or Arizona is doable for most people. Figure another $300 for hotels and $300 for spending money, and you could have your entire Super Bowl vacation for about the same price it would take to buy a plane ticket to England. We wouldn't feel welcome and there would be a disconnect between us and the game. As far as watching it on TV? Forget it. I don't care about the advances of HD, the game would still have that grainy look I'd expect to see if I were looking at surveillance video. And how about those fans who would be at the game? We feed off the fans in the stands so much when we watch a game on TV. We know the nuances of the game. We're knowledgeable and know how a game unfolds. Hearing errant cheers and the like ("The fans just love how that incomplete pass was almost caught -- and they're giving Ben Roethlisberger a standing ovation!") further fuels that separation.
Media Day: I don't even think I need to say anything more than this:
Reporter: "So, 'Fawlty Towers' or 'EastEnders?'"

Bill Belichick: "Huh?"

Reporter: "Why have you stolen Ricky Gervais from us?"

Bill Belichick: "Look, I've answered every question possible about Spygate and we're moving on. Next?"
OK, come to think of it, Media Day might be fun after all. Scratch that one.
Giving the Super Bowl to London based on two decent showings from the regular season is like an entry-level employee making a couple of sales and then getting promoted to the head of the department. I don't know who wins in this situation, other than the host city, but the list of losers is long. Awarding the Super Bowl has to be about more than just, "Hey, how cool would it be if we had the Super Bowl at Wembley?" International growth is important, certainly, but not as important as keeping the game here.
However, if they want to give us James Bond and Elizabeth Hurley in return for the game, we can talk. Because I've seen Elizabeth Hurley in person outside a boutique here in Los Angeles -- yes, I was sort of stalking her from 30 feet or so -- and she's all that.
Jason Smith is the host of "AllNight with Jason Smith" (weekdays 1 to 5 a.m. ET/10 p.m. to 2 a.m. PT). Get in touch with him at allnight@espnradio.com.