Commentary
ESPN Radio Extra Point
Marion Jones doesn't deserve this second chance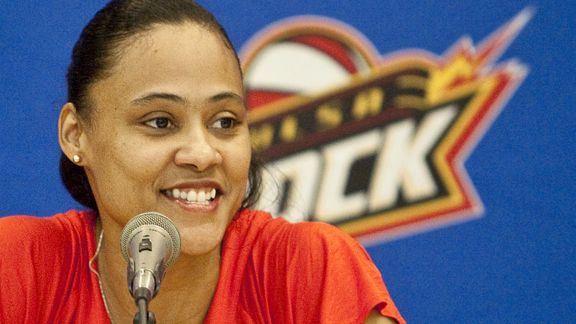 AP Photo/Shane Bevel
Marion Jones, 34 years old and 13 years removed from organized basketball, is now a pro player. Introduced yesterday as a member of the WNBA Tulsa Shock, she joins coach Nolan Richardson. They both won national titles in 1994 when Jones was the freshman point guard for North Carolina and Richardson ran his famed "40 Minutes of Hell" in Arkansas. Richardson calls Jones perfect for his system. Jones calls her WNBA career a second chance.
Let's call it what it is, a ploy by a struggling franchise to sell tickets. In the time since Jones' last basketball game, she used steroids, won five Olympic medals and spent months in federal prison for lying about doping and her role in a check-fraud scam. I never supported her time in prison, feeling her public shame and bankruptcy was plenty of punishment. But I don't support this, either.
She's getting a second chance ... but taking away someone's first. One of the talented players in this year's NCAA tournament will not get the chance to go pro ... because Mario Jones is.
To listen to more ESPN Radio Extra Points, visit the archive page.
SportsCenter anchor
Chris McKendry is the co-anchor for 12pm to 3pm ET SportsCenter. McKendry has also served as an anchor on ESPNEWS, Weekend Morning SportsCenter, and Sunday Sportsweekly. Prior to joining ESPN, McKendry was the first woman to work as a TV sports news anchor in the Washington D.C. market. In June 1996, she received a regional Sports Emmy in the Best Sports Segment Category for "NFL 101."