Softball vs. Jonas Brothers
Updated:
August 12, 2010, 11:20 PM ET
ESPNRadio.com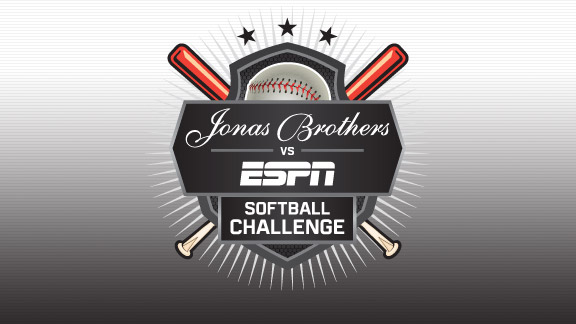 ESPNRadio.com
Jonas Brothers and ESPN Meet in Softball Challenge
Noon, August 13 at New Britain Stadium
The Jonas Brothers will change their repertoire from hit singles to doubles, triples and home runs when their "Road Dogs" softball team takes on the ESPN "G.O.A.T.S,"a team of ESPN commentators, at Noon ET on Friday, Aug. 13 at New Britain (Conn.) Stadium, home of the New Britain Rock Cats (Double A Eastern League affiliate of the Minnesota Twins).
The Jonas Brothers will stop in New Britain en route to their 8 p.m. Live In Concert World Tour stop that night at Hartford's Comcast Theatre. They will have begun the day with an appearance on ABC's Good Morning America in New York.
Tickets for the "Road Dogs" vs. ESPN "G.O.A.T.S" game are free, however, donations will be accepted to benefit the Connecticut Children's Medical Center's A Brighter Hope campaign. Tickets will be available beginning Thursday, July 29, at Noon at the New Britain Stadium Box Office, located at 230 John Karbonic Way, New Britain or by calling (860) 224-8383 (limit 6 tickets per order). Additional event information is available at espnradio.com and rockcats.com.
The first pitch for the August 13 game was figuratively tossed in May when the Jonas Brothers were guests on an ESPN Fantasy Focus podcast. They mentioned their "Road Dogs" team, and ESPN fantasy guru Matthew Berry aka "The Talented Mr. Roto," challenged them to a game. The team name "G.O.A.T.S," which is an acronym for "Greatest of All Time" (a common phrase used on the podcast), was submitted by a loyal listener.
While the "Road Dogs" are made up of Nick, Joe and Kevin Jonas, their band mates and road crew, the ESPN "G.O.A.T.S" will present a line-up including Berry, "Mike and Mike in the Morning"'s and "SportsCenter"'s Mike Greenberg, "SportsNation"'s Michelle Beadle, NFL analyst and former All-Pro defensive end Marcellus Wiley, and "Baseball Tonight" analyst and former MLB player Eduardo Perez. "NFL Live" host Trey Wingo will add play-by-play and commentary to the game.
Friday's event is sponsored by Comcast. Allstate, the official partner of the"Road Dogs," will be promoting the "X the Text" campaign encouraging Jonas Brothers fans to take a pledge not to text and drive. Those unable to attend the game can take the pledge online at facebook.com/thumbsuppledge.
Pre-game entertainment starting at 9:30 a.m. will be provided by Vermont-based Burnham, with brothers lead vocalist Forrest, Alex on guitar, and Andre playing bass and keyboards; and teen-band Fyve featuring lead singer Danielle, the harmonies of identical twins Kristen and Katherine who play guitar and drums, Aaron on bass, and Declan on guitar.
Connecticut Children's Medical Center
Connecticut Children's is the State's only academic medical center devoted exclusively to the care of children, from birth to age 18. The center has over 270,000 visits each year, caring for children from every town and city in the State, and many from far beyond the region. Donations made to A Brighter Hope campaign will help create an expanded, integrated, state-of-the-art, child-friendly care center for kids with cancer and blood disorders. For more information visit connecticutchildrens.org.