Mike & Mike Pentathlon Competition
Updated:
February 11, 2010, 2:07 PM ET
ESPNRadio.com
How much of a better athlete is Golic compared to Greeny? Or is he? Does Greeny truly melt under pressure, and when others are watching? Mike & Mike go head-to-head in a five-event pentathlon to answer these questions and fight for bragging rights.


The events (H.O.R.S.E., ping-pong, running the bases, mini-golf and soccer penalty kicks) will take place between June and August. Check back often and keep score on ESPNRadio.com.


Final Event: Soccer Penalty Kicks (Aug. 18)
Greeny needed to defeat Golic in penalty kicks to force a tie in the Mike & Mike Pentathlon. Did he pull out the win? Watch


Aug. 4: Mini-Golf (Golic 2, Greenberg 1, Ties: 1)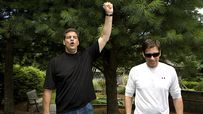 Mark J. Gaier for ESPN
Golic broke the deadlock by winning match play mini-golf, 3 and 2. Greeny got in the hole early, losing three of the first four holes, but rallied to within one at the halfway point, 4-3. Golic then sunk his second hole-in-one on 10 and never looked back, defeating Greenberg six holes to three.
Watch | Reaction

| Photo Gallery


July 13: Running The Bases (Golic 1, Greenberg 1, Ties: 1)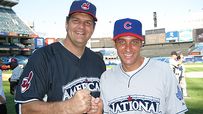 Scott Shapiro/ESPN Radio
Let there be controversy! After participating in the Celebrity Softball Game as part of MLB's All-Star Weekend festivities at Yankee Stadium, Mike & Mike ran the bases for the third event of their pentathlon. Greeny went in as the favorite, yet Golic still thought he was the faster man.


Would the former professional athlete prevail? It ended up being a photo finish. Greeny went first and finished in 19.29 seconds. Golic chugged hard around the base paths and ran out of steam, only to finish .04 seconds behind Greeny with a time of 19.33, according to producer Scott Shapiro, who controlled the stopwatch. A second timer showed a .02 difference in Greeny's favor. With that close of a race, Greeny refused victory, calling it a tie. Watch the event | Reaction

June 23: Ping-Pong (Golic 1, Greenberg 1)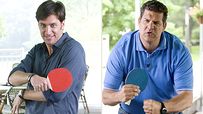 John Atashian for ESPN
Golic said, "I showed him nothing about my game" in warmups. When the match begin, Golic didn't show much there, either. Greeny's tennis background clearly proved to be an advantage as he took a 10-0 lead in the first game en route to a 21-5 victory.


Needing to win Game 2, Golic got out to an early 3-0 and 6-4 advantage. Greeny rallied to make it 8-8, and never looked back. Greenberg continued to pile up the points, taking a 12-8 and 16-10 advantage. He'd eventually close out Golic, winning 21-13, as the big guy hit it into the net for the winning point.


Greenberg employed the "keep it simple" defensive strategy. Golic admitted to being outplayed but vowed this will be his only blemish. "So now the pentathlon will be 4-1 instead of 5-0," he said. Watch | Photos | Greeny celebrates


June 9: H.O.R.S.E. (Golic 1, Greenberg 0)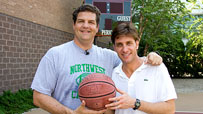 John Atashian for ESPN
After all the hype, Greeny and Golic finally put their athletic ability to the test and took to the ESPN basketball court for a game of H.O.R.S.E., the first of five events in the Mike & Mike pentathlon. Greeny called this an important game for him to get an early lead on the big man. Greenberg started out strong, but it wouldn't last long.
Watch the event | Photo gallery


One day later on the show, Greeny admits that Golic's "keep it simple" strategy was the difference. Greenberg had hoped to hit some 3's but instead fell flat by missing easy shots. Listen