Russillo on the Road: Eugene
Updated:
November 4, 2009, 7:13 PM ET
By Ryen Russillo
The Scott Van Pelt Show on ESPN Radio
Russillo on the Road: Eugene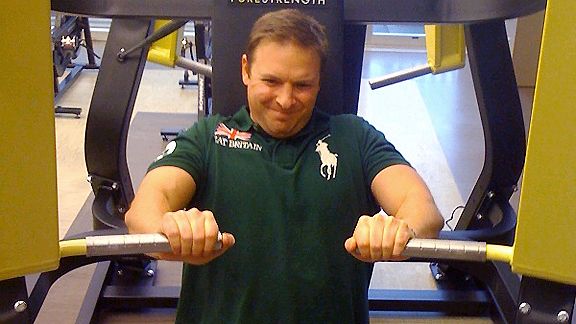 You can't teach pure strength.
As part of his responsibilities for "College GameDay on ESPN Radio," our own Ryen Russillo will be spending a lot of time on the road this fall. Ryen documents his trip to Eugene in the fourth edition of Russillo on the Road.
Thursday 10/29, 4:10 a.m.
"Wake up, wake up, wake up.
It's the first of the month to get up, get up, get up.
So cash your checks and get up."
-Bone Thugs-N-Harmony
It's actually the 29th of the month. Despite only two hours of sleep, I am too excited to be tired. I won't be cashing a check today. Instead, my reward is the culmination of a two-year odyssey: a weekend on the campus of the University of Oregon.
There have been times during previous seasons when we thought that GameDay would be headed to Eugene, but it never happened. The Ducks always seemed to lose the game that mattered, and I figured it was over when they lost to Boise State during the opening week. But the Ducks kept winning after a dismal start, while USC did the same. There were really only two games to choose from, with the other being Texas-Oklahoma State. As much as I'd like to drop Doug Gottlieb's name in Stillwater, I want to go see my Ducks.
The dance team is another reason I want to go there.
6:15 a.m. - Depart
My flight is with Southwest, which marks my first time on this carrier. The whole choose your own seat thing is stupid. If you are last in line you are going to be riding middle. There is a couple with full-on dreads, sandals and matching tams. They look like they went to prep school in Negril. They smell and keep making out.
What appears to be the male of the couple looks over my shoulder to see what group I am in, then looks at his ticket and cuts in front of me in line. This is actually the right move because he is technically ahead of me. It still bothers me, though.
As I walk onto the plane, almost all of the seats are full. Only middles are available except for an open aisle next to Mr. and Mrs. Tosh. The dude has removed his dreads to hang in the empty seat as a deterrent to anyone who considers sitting next to them. I really want to sit there for the "stranger in the seat next to you jam." The more I think about it, the more I lose in this transaction.
9:33 a.m.
Instead, I sit next to a three from the East Coast who is on her third Cape Codder and asks me out. Still got it!
[+] Enlarge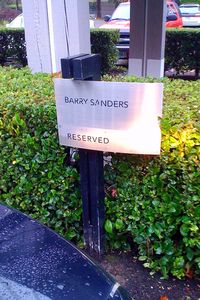 ESPN RadioEmmitt Smith was waiting to pull into this spot at the end of the day when it didn't matter.
1:30 p.m.
Stanford Steve and I are headed to the Nike campus, which is located about 30 minutes away in Beaverton. One of my guys from college has worked at Nike for over 10 years, so I am expecting a lot of free stuff.
Campus is pristine. It is raining and gloomy but that's because Nike hasn't been able to buy the Sun yet. State of the art gym, hoops and pool. Everyone in Oregon looks like an athlete, except (ironically) my friend, who once locked himself in a room and watched the first 10 WrestleManias on VHS in one sitting during college.
4:30 p.m. - Nike Store
I can't find any of the SPARQ parachutes to increase my explosiveness.
6:12 p.m. - Everything You Need
Our Hotel is located in Albany. When I tell people we are staying there, a lot of them say they have never heard of it. That is always a good sign. The hotel is just under an hour away from campus. Apparently ESPN wants "Russillo on the Road" to be a recap of dining at Applebee's.
We pull into the hotel parking lot and the two buildings next door are Denny's (which provides the room service to the hotel - true story) and an adult store.
6:22 p.m. - Dinner
The great thing about staying in terrible hotels is that you don't want to spend too much time in them. When we stayed in Lubbock last year, there was blood on McShay's bed sheets when he checked in and each room had a sign asking you to take your garbage with you.
We decide to pass on the taco/pizza palace of Oregon and settle on Applebee's. I never thought I would say this, but I'm kind of happy that there is an Applebee's. We watch some of the World Series and UNC's win over Virginia Tech. As the Yankees and Phillies are finishing up, they change the channel to a Blazers-Bulls game. We leave.
Like I said above, this weekly feature is not about dining out.
---
Friday, 10/30 - 9:00 a.m.
The night was uneventful. Last year, I was able to go out on Thursdays while on the road and even made a run at New Orleans during a trip to LSU. Between coaches' interviews, the SVP Show, Provo and staying in Canada on this trip, Fridays have been too busy this season.
The set is located inside an indoor practice facility about 50 yards from the stadium. Great setup.
11:00 a.m.
The SVP Show starts and Van Pelt is already jealous and hazing me into going out more. He's upset that I stayed in last night. I don't want to hear it but he is right.
[+] Enlarge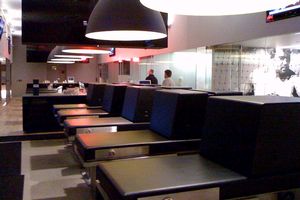 ESPN RadioI would try out for every team on campus to get to use this stuff.
1:00 p.m. - NFL Facilities
In college football circles you hear about how other programs don't want their recruits to go on visits to Oregon in fear of losing them after they see the Ducks' facilities. Now I know why. They are unreal, almost futuristic. There is an on-sight optometrist, dentist and 20 training tables that look like something you would see in Vegas. There are numerous hot/cold tubs and underwater treadmills that videotape your running movements. The locker room resembles the deck of the Starship Enterprise. It actually smells nice.
3:27 p.m. - Dance Team
A college football fan that has never heard of the Oregon Dance Team is akin to a 40-year-old virgin that has never played World of Warcraft.
They are legendary, possibly the greatest accumulation of talent since the Braves' rotation in the '90s. Supposedly, opposing coaches asked if Oregon could move the dance team further away from the visitors' bench at the Pac-10 basketball coaches' conferences a few years ago because the kids on the team wouldn't pay attention to the game.
[+] Enlarge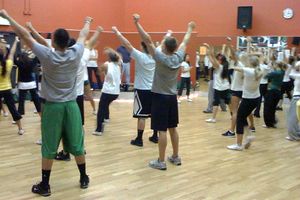 ESPN RadioNothing creepy about this.
I don't know if it's true but it doesn't stop me from telling the story once a week.
We have a contact with the dance team and we have been invited to watch them practice at a local Gold's Gym. The dance team is there and so is the cheerleading squad, including the full male roster. Did I forget to mention that one of the guys who works with us on the road handed me a sign at the last minute to ask the team to hold and then take a picture?
I hate signs. What man over 30 lays down on his floor and uses big magic markers to write "I'm from Akron and Brent Musburger is Awesome-Steve"? On top of how soft it is, you then have to carry the sign around. If you have a friend who does this, don't give him his ticket.
I speak with one of the coaches, tell her the deal and she isn't impressed with your boy. One of the guys (back row right) is really struggling with his count and couldn't be screwing up any worse. He is letting the team down. I'm not going to make fun of male cheerleaders because it's like a joke about jean shorts. We get it, they aren't cool.
The kids are singing the fight song and some guys don't know all the lyrics, which leads to this exchange between the captain and some intimidated third-stringers:
Captain:
"OK, how many of you guys don't know the fight song? Raise your hands!"
Group:
Motionless. Fear.
Captain:
"If you don't know the words, you aren't taking the field for GameDay!"
Is he talking about my show? I agree with him: I don't want some kids that aren't going to take it seriously to be on my set.
3:42 p.m. - Public Speaking Disaster
I really only wanted to talk to the dance team, and now I've got the regular cheerleaders and male dudes staring at me, wondering what the point of interrupting their practice is. I start off with, "people talk about you" and "had to see it firsthand." Also, I use, "so proud of you" and this gem: "Just keep fighting for America."
I speak for a living and am pretty comfortable with it. This was a total of 45 seconds and it felt like 10 minutes. At one point, the train was so far off the tracks that I had no idea where it was going. I was pretty sure someone was going to ask me to leave. Now I have to do the sign thing. This sucks.
"If I haven't embarrassed myself enough, can you hold this sign that has hearts drawn on it?"
On my way out, I yell, "Hey, get those lyrics down!," to the dudes in the back. No one laughs, not even the people I'm with. So much for not making fun of male cheerleaders.
I wish it had gone better, but I don't know what I expected as I think back on this. Was I just supposed to show up, tell a group of college girls that we have talked about how hot they are on radio for years and ask them what they think?
So mad about the sign.
[+] Enlarge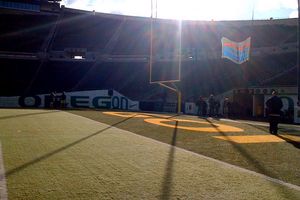 ESPN RadioIt never rains at Autzen.
5:05 p.m. - USC Walkthrough
This is my second walkthrough with the team, and it is just as unorganized as it was against Ohio State. I don't have a problem with this. USC wins big games on the road because they don't make a matchup bigger than it is. You can criticize the Trojans for losing games they shouldn't have lost over the last few years, but I'd rather a team win all of the games that matter than be Oklahoma.
Today's highlight includes a competition to hit the 360 camera cables hanging about 60 feet above the field. USC QB Matt Barkley hits it on his first try. I can imagine the ESPN directors would be thrilled to see this.
We are waiting on the field to interview Pete Carroll and there is a loose football just sitting in the end zone. I can't help myself. We were out on the field playing catch earlier and I still love throwing a football. The only problem is that I always thought I had a really good arm until I played catch with Stanford Steve and Todd McShay. I guess I don't. Steve was actually recruited to play QB at Notre Dame and McShay played at Richmond before he was moved to defensive back. I guess they needed his toughness on that side of the ball. I grab the pigskin and signal to the equipment guy about 50 yards away. It is as bad of a throw as I have ever made. It looks like a hammered seagull trying to take off. This will bother me for days.
7:44 p.m. - Dinner at Rennie's Landing
We are on campus for the first time and three of us from the crew head to Rennie's Landing, a local spot that we have heard good things about. It's perfect: not too busy, good food and the South Florida game is on. We tell the waiter that we will fight anyone who changes the channel.
---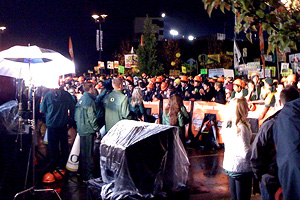 ESPN RadioDucks out early.
Saturday, 10/31 - 5:45 a.m. - GameDay
It's raining. Shocker. Would usually work out in the morning but the hotel treadmill started trying to trip me yesterday. Have I mentioned what a beating it is to fly across the country and then commute an hour to work? We watch television GameDay for a few minutes. I always get pumped watching those guys. It's the best show in sports. It also provides an opportunity to steal some food.
2:00 p.m.
Show is moving. I notice the dance team comes in, makes no eye contact with me and sets up about 100 yards away from our stage. In 2007, they were in front of the stage. Awkward! The crowd has to be about 3,000 people, the best turnout of the year.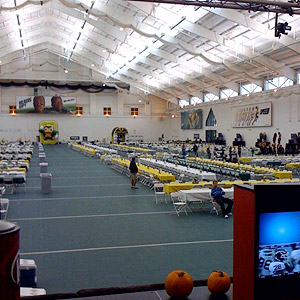 ESPN RadioEmpty.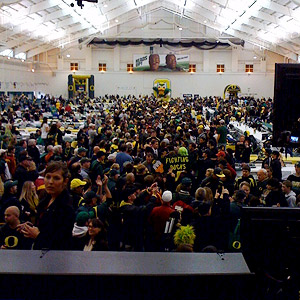 ESPN RadioFull.
3:55 p.m.
It's the end of the show and both Brad and Trevor pick USC. The crowd starts booing and dudes are upset. I pick the Ducks. Don't really know if I believe it, but how could I do anything different? I never pick games on this show, but I had to do it for our safety and to repair my relationship with the community ahead of tonight.
4:01 p.m.
Each week there are about three people waiting for my autograph. I'll never stop thinking this is really funny. I meet a couple of guys who like the Scott Van Pelt Show, which always feels good to hear, even if they are lying. I once told one of the New Kids on the Block that "musically you guys were pretty underrated."
5:00 p.m. - Gametime
Loudest place I have ever been to. Just under 60,000 and simply absurd. Any player that says they like the noise is lying. You can't go on any count on offense, so you are moving off of the defense's first movement. I'm on the USC sideline for the first half because it has more room. Almost as much room as the gaps in USC's defense. Oregon is doing whatever it wants on the ground.
7:15 p.m. - Ugly
Here is all you need to know about this game: this is the worst USC team of the last eight years. The previous seven won 11 games a year. Taylor Mays is overrated. Damian Williams is not. I see the dancers shaking their hips in a rhythmic hypnosis, so I think about going up to them and trying to smooth things out. I decide against it. It's like an ex at a Christmas party, only the dancers don't know that we used to go out.
Oregon had Dennis Dixon, Akili Smith and Reuben Droughns on the sideline. They all spent some time talking about how simple USC's offense is. I have heard this a lot. They run really basic stuff, but they are generally so much better than the opponent that they can win with it.
Not tonight.
Oregon has just an epic performance on the ground. Their QB didn't even need to throw it tonight with the team's 391 rushing yards. They could have scored 60 points. Oregon wins 47-20.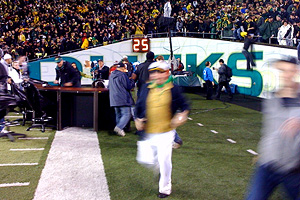 ESPN RadioThis guy ran so fast rushing the field that time couldn't catch him.
8:33 p.m. - Gametime
The kids are storming the field and screaming at Pete Carroll. The crowd was loud consistently throughout the game. The school actually lets people storm onto the field. Students are throwing a loose football around and no one cares. Oregon beat USC here in a close game two years ago, but this one is different because USC will not be winning the Pac-10 in 2009.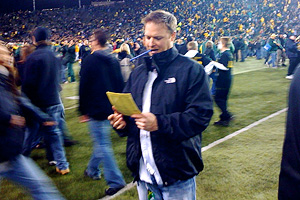 ESPN RadioStudying the two-deep in case Fowler gets trampled.
Fowler is trying to get ready for their on-field stage. Long day for that guy. Some Oregon fans yell at him. Just a piece of advice for people that want to mess with Fowler: when Chris Fowler does a push he is actually pushing the Earth away from himself. You have been warned.
9:00 p.m. - I'm with the Band
We are walking back to our car as the USC band is marching out of the stadium. We wait for a gap in the line to cross, and just as this happens, a dude on cymbals gets his William Wallace on and jacks Stanford Steve. Steve didn't move because he is a monster, but I don't know what to do. We are both shocked. We start to notice Oregon kids trying to break the line and it's getting pretty physical. After further investigation, this is what you do everywhere when you are in the band. Don't let anyone cross.
Maybe the band should coach the USC d-line?
10:30 p.m. - Real Gametime
We are going to make a run at it out on campus in Eugene. Steve and I were almost headed home, but both of us are on the no sleep program and have to be in Portland at 4:00 a.m., so why not feel really miserable? Did I mention it's Halloween?
Hit a couple of bars outside the stadium. Everywhere is packed with a lot of alums up for the game, which is both good and bad. Bad because there are more bodies to deal with, and good because I will not be the oldest creepy dude on the scene.
Long lines (which were expected), great outfits and some college guys who may be dressed up as Ziploc bags. I love dudes that don't care. One of my roommates wore a wig and shorts in college. His outfit was "rock 'n' roll caddy." Any male that doesn't like Halloween is no friend of mine. Who knew there could be a "naughty longshoreman" outfit?
---
Sunday, 11/1 - 12:04 a.m. - Choose Your Own Adventure
I think about going with the "I'm here with GameDay" thing, but I saw someone from the fantasy department do it once and it didn't work. It was just a bad verbal transaction, so I decide on the old reliable.
Cash.
I give the door guy $60. I am in Eugene so it may have only taken $6 to get in but it's worth it. In the span of an hour, we see a fight between a guy dressed like Super Mario and Dog The Bounty Hunter, and a bunch of girls dressed like before pictures at Curves. The NFL guys are pumped. They are dressed like NFL players that everyone wants to talk to, and for one night we are in the center of college football on this Saturday.
By the way, my costume was a guy dreading a flight across the country.
Next stop, T-town!
Tune in next week for the Tuscaloosa edition of Russillo on the Road. Got any questions or suggestions for Ryen? Please comment below and let us know what you think.