This seven-layer taco dip recipe comes recommended to us from Dari Nowkhah.

[+] Enlarge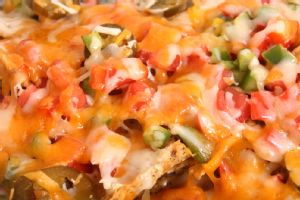 Ju-Lee/ThinkstockThis layered taco dip is a true party favorite.
Seven-Layer Taco Dip
1 package taco seasoning mix (1 oz)
1 can refried beans (16 oz)
1 package cream cheese (8 oz), softened
1 container sour cream (8 oz)
1 jar salsa (16 oz)
1 large tomato, chopped
1 green bell pepper, chopped
1 bunch chopped green onions
1 small head iceberg lettuce, shredded
1 can sliced black olives, drained
2 cups shredded cheddar cheese
Steps:
1) In a medium bowl, blend the taco seasoning mix and refried beans. Spread the mixture onto a large serving platter.
2) Mix the sour cream and cream cheese in a medium bowl. Spread over the refried beans.
3) Top the layers with salsa. Place a layer of tomato, green bell pepper, green onions and lettuce over the salsa, and top with cheddar cheese. Garnish with black olives. Enjoy!
EXPERT PICKS
Greenberg

24-23

Golic

27-23

Cowherd

26-23

Van Pelt

+2.5

Russillo

+2.5

Sedano

24-13

Schlereth

31-17

Coleman

30-21

Nowkhah

24-20

Kiper

29-26

Also: Stugotz from The Dan Le Batard Show says the Broncos will win 31-17.